A dumbwaiter lift costs a lot less than other types of service or goods lifts as they are not designed for carrying heavy loads from floor to floor. As residential dumbwaiters are meant primarily for transporting food, loads of laundry and other small, relatively lightweight items, there are lower costs involved. However, many things can influence the cost of a dumbwaiter lift.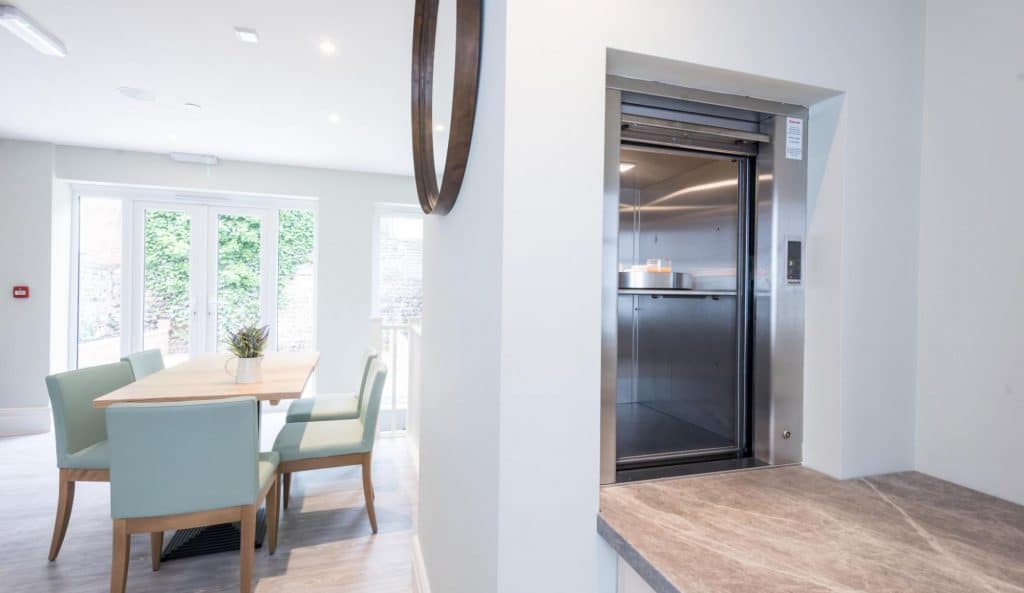 What Affects Residential Dumbwaiter Costs?
The Gartec Dumbwaiter is an amazingly versatile home lift that can transform your quality of life. Whether you are a homeowner and want a solution that lets you use your current residence in more comfort or you are an architect and want to create an accessible home, this lift is ideal.
The following factors may influence the costs of your new dumbwaiter lift installation:
Car size: A standard size stainless steel dumbwaiter is going to cost less than a larger design. We have standard models starting at 545 x 420 x 800mm and double models that will include two cars, so this is a crucial factor and can make costs vary widely.
Stopping points: The greater the number of stopping points the more complex an installation will be and the more materials will be used. As a result, more stopping points always mean you will have a higher cost for your new dumbwaiter installation.
Shaft sizes: There are so many types of houses in the UK, which means you may need to have a smaller or larger shaft or enclosure. The Gartec Dumbwaiter requires a shaft and enclosure, so the height of the shaft will make a big impact on your overall costs.
Power supply and electrics: Depending on the above factors, you might need to have a special type of power supply or motor. As a result, you could easily end up paying a bit more for large car sizes with multiple stopping points across a large height shaft.
If you require food lifts capable of transporting goods that are a bit heavier, then a commercial dumbwaiter may be a better but costlier option. These are perfectly adaptable to private homes. We can talk about this option with you when you get in touch to discuss your dumbwaiter lift.
Why Choose Gartec for your Dumbwaiter?
If you are worried about how much you will pay for a dumbwaiter, we can help alleviate some of these concerns with our leading lift services. The benefits of choosing us include the following:
Efficient installations: You can put aside any worries of delays, disruption and other types of cost-spiralling events by using our award-winning team. As a result, costs will be kept as low as possible. Our experts have over 25 years of experience in the trade.
Multiple sizes: If you have your heart set on a dumbwaiter lift but want to keep prices manageable you can select from several lift sizes. With smaller models providing a lot of the same functionality it is easy to make a compromise and better manage costs.
Low running costs: We work with eco-friendliness and sustainability as a core value, so all of our lifts are incredibly energy-efficient and will give you much lower energy bills. As a result, your overall dumbwaiter lift costs are extremely low in the long term.
The elegant, sleek and cost-effective Gartec Dumbwaiter model will perfectly complement any private home. As industry-leading providers and pioneers in the home lift space, we can offer some of the best prices for a wide range of dumbwaiter customisations and finishing choices.
Please feel free to contact us for a bespoke price on your new home dumbwaiter lift installation.
Contact Us for Bespoke Dumbwaiter Lift Costs
You can transport up to 100 kilograms of food, laundry, papers, equipment and almost anything else by using a dumbwaiter lift. How much you ultimately pay will depend on the specifications of your lift and the complexity of your fitting, but we provide some of the lowest costs in the UK.
With optimised installation services, plenty of dumbwaiter lift customisation options and very energy-efficient running costs after fitting, we can make sure that your dumbwaiter lift costs as little as possible long term. Get in touch with us to discuss a bespoke quote for your new lift.