Passenger lifts, like all mechanical items and equipment, can malfunction. This could, in turn, cause passengers to become trapped if they happen to be riding the lift during the malfunction.
In case you were not aware – if you are the owner of the property, and therefore the owner of the lift,  it must be at the forefront of your mind that the responsibility to ensure the safety of these trapped passengers lies with you. Local emergency services should not be used for these purposes unless there is a medical emergency, or the malfunctioning lift is a danger to life.
In the event a lift breakdown occurs, arrangements for the release of people trapped inside include the following:
Suitable communications systems within the lift so that a person trapped inside can raise an alarm.
Emergency lighting within the lift car must be working properly.
If they are trained, and the situation allows for it, authorised staff can release people who are trapped within a lift and submit a lift breakdown report.
There must be lift breakdown signage or lift breakdown notices communicating to lift users what they need to know or do in the event of a lift breakdown.
Anyone trapped in a lift during a breakdown must be able to obtain the attention of others from within the lift well or lift shaft. Appropriate means or devices to communicate include a bell, intercom systems, a telephone link to emergency services, or another method that remains appropriate to the age and type of lift in use.
If alarm bells or intercom messages are unlikely to receive any response due to the rest of the building being uninhabited, or because others who are in the building are out of hearing distance, a telephone link to a location outside the building is necessary.

Codes of Practice for Lifts
According to BS 7255:2012 Code of Practice for Safe Working on Lifts, the owner of the lift should ensure there is a regular check of emergency lighting and the emergency alarm within the car – to ensure that they both remain operable in the event of a lift breakdown caused by a power failure.
A competent person must be undertaking these release procedures as certain important decisions will need to be made. This includes whether or not these lift breakdown procedures are undertaken in-house, through an appropriate lift maintenance contract, or maintenance programme with a third party.
It is also important to take note that any lift installed after July 1999 should be provided with lift breakdown signage and instructions on safe release procedures. Release operations should be undertaken with strict adherence to the manufacturer's or authorised agents instructions. These should also be permanently displayed in the form of a notice in the machinery space.
BS 7255 codes also recommend that an authorised competent person should be stationed at the landing entrance closest available – and that the authorised person should have direct communication with anyone in the machinery space and the passengers in the lift car.
This person, in the event of a lift breakdown, should be in a position where they can continually provide reassurance to the passengers of the lift and keep them informed of the release operation – ensuring that the passengers do not attempt to leave the broken-down car prematurely, for their safety.
In cases where there are multiple types of platform lift within a property, the arrangements for conducting these rescue operations may differ. For example, the lift may be a model without a machine room. In these cases, the property owner or occupier should be aware of the technical rescue aspects that differ between their various lift models.

4 Top Tips to Prevent Lift Breakdowns
When a lift breakdown occurs, it can be an absolute nightmare to deal with; especially if someone happens to become trapped within the lift. Whether you're using platform lifts on your property for the transportation of goods or people, a lift breakdown can cause considerable levels of disruption to the daily running of your property.
Below, we outline four tips that will help in the prevention of lift breakdowns or failures:
1. Stringent Lift Maintenance & Service Contracts
By implementing a lift maintenance service contract from a third-party lift maintenance company, you are guaranteed to have a lift specialist regularly visit your property and check your equipment – to ensure it is fit for use.
Lift maintenance contract inspections from lift companies, such as those available here at Gartec, are required for your lift to remain under the Lifting Operations & Lifting Equipment Regulations 1998 (LOLER).
To remain under LOLER legislation, a lift engineer will visit your property every 6 months to perform checks and any maintenance needed. This will help to:
Improve the life-span of your lift
Extend the time between call-backs
Maximise the reliability of your lift
Reduce the risk of accidents, lift breakdowns, and litigation
Gartec lift maintenance contracts cover a wide range of lifts.
Find out more about our home lift services & packages.
2. Daily Functional Tests
To check the current state of the lifts on your property, there are daily functional tests that you can undertake, which also help to prevent lift breakdowns. These include:
The emergency communications system: Essential equipment that must be working at all times. Test every 3 days as a minimum.
Lighting: Ensure that lighting is operational within the lift and change bulbs as needed.
Lift thresholds: The lift should be completely level with every floor it opens on to, to prevent risks of falls.
Door tracks: Door tracks must be kept clear of debris and obstructions as this is a common cause of lift breakdowns.
Door safety devices: Check all of the safety devices within your lift to prevent injury to those who use the lift.
Strange noises: Pay attention to any unusual noises during the operation of the lift. Early detection and repair will help to keep your lift working properly for longer.
Car push buttons: Check all of the landing buttons within the lift to make sure that the lift travels to the correct floor.
3. Ensure Your Lifts are Being Used Correctly
Correct use of lift and escalator equipment will ensure that your lift works properly. If lifts and escalators are not being used for reasons that are laid out within its specifications, it could make your lifting equipment more susceptible to lift breakdowns and damage.
This could mean using a passenger lift for goods and heavy loads or overloading a goods lift, for example.
4. Education of Your Users
Ensuring all who use your lifts and escalators are educated is vital in reducing the number of escalator or lift breakdowns that occur. People must never interfere with the equipment in use as something that may seem innocent, like putting a hand between closing doors, could cause a lift breakdown. Educating lift users, either verbally or via appropriate health and safety signs, will prevent lift breakdowns from occurring as frequently.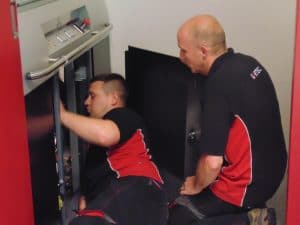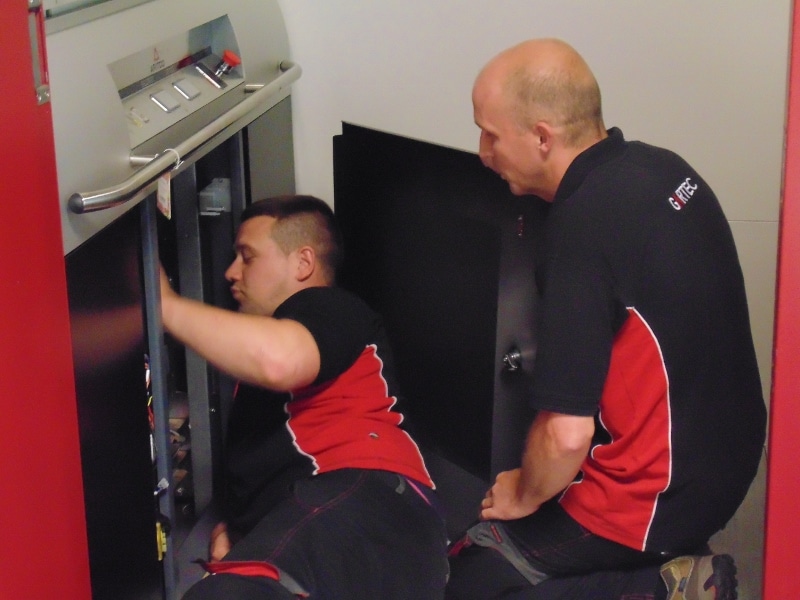 Contact Gartec for Lift Breakdown Prevention Services
If you have a lift installed on your property, it can cause an incredible level of disruption if a lift breakdown occurs – especially when they're essential to the smooth running of your business.
To ensure things are always working as they should, we highly recommend getting a lift service contract that will allow you to get your two essential planned lift services per year. Find out more about our home lift services & packages
If you're suffering from a lift breakdown, or you'd like a bespoke lift designed to match your aesthetic, Gartec is the nation's favourite lift company – and have installed lifts across the UK.