We have all had that familiar experience of stepping into a dark, dingy or otherwise antiquated lift. When you do, you will probably experience an inferior lift performance, such as slow speeds, jerky movements and possibly even concerns about the safety of the lifting equipment. This is where our lift modernisation processes come in, which are a cost-effective way to improve lifts.
With high-quality lift replacement, modernisation and performance enhancements, you can get significant upgrades to all sorts of traction and hydraulic lifts. Some of the key benefits of a lift refurbishment in existing lift systems include the following:
Less frequent lift service needs: Servicing can be expensive, especially if a problem gets out of hand, which is much more likely in an older lift system. With an effective new lift installation, you can easily reduce the chance of breakdown and maintenance.
More energy efficient: In the earliest lifting systems steam was used. Some older lift systems today are not quite so unusual, but many of them have poorly-functioning lifting mechanisms and high-electricity using motors, which modernisation can fix.
Better resistance to wear: When you modernise a lift, you get the chance to use new plastic polymers and metals for the inside. Using scratch, crack and chemical resistant materials gives you much better wear and tear, as well as excellent vandal resistance.
Longer life cycle: Modernising a lift is a way to increase the lifespan of the system, as it gives you the chance to renovate the shaft and other mission-critical infrastructure. A longer life cycle means lift modernisation provides a fantastic return on investment.
Improved user experience: Whether it is brighter lights, easier-to-navigate buttons, voice calls or a wide range of other upgrades, you get a boost to the experience of a lift with a refurbishment. You will never have that nasty feeling we talked about earlier!
Safer lifts: All types of passenger lifts, goods lifts and even home lifts will get a safety boost from modernisation. Simply taking components of the system apart can reveal all sorts of issues, and replacing them is a good way to guarantee long-term safety.
Wide range of finishes: You can customise a modernised lift to current branding in a commercial lift or adjust the decor to the tone in a block of flats. Either way, you can find the perfect colours and finishes to give you the perfect look, such as woodgrain.
Smooth door mechanisms: Stuttering, stuck or noisy doors are some of the most common lift problems, which lift modernisation can improve. New door operators, the mechanism that opens the doors, are one of the most important parts to replace.
Full compliance with health and safety: Any new or upgraded safety or accessibility considerations can be attended to during modernisation. This will make sure that a public or commercial operation remains compliant with laws but also boosts safety.
Easy lift movements: Travelling up or down can feel jerky in an older lift, but with a new lift installation or refurbishment you can replace the platforms, fit newer lifting mechanisms and create a much more calm upward motion for people using the lift.
Quieter lift movement: Whether it is the doors or the movement in the shaft of a lift, modernisation will make for quieter lift use. This is a good advantage of refurbishment in blocks of flats and hotels, where noisy movements can disturb the residents.
Overall, lift modernisation is a superb way to create a safer, longer-lasting lift that provides an excellent feeling of comfort and assurance that the best lift designs can offer. We fit many commercial, goods and domestic lifts, so we are a good source for details on lift modernisation.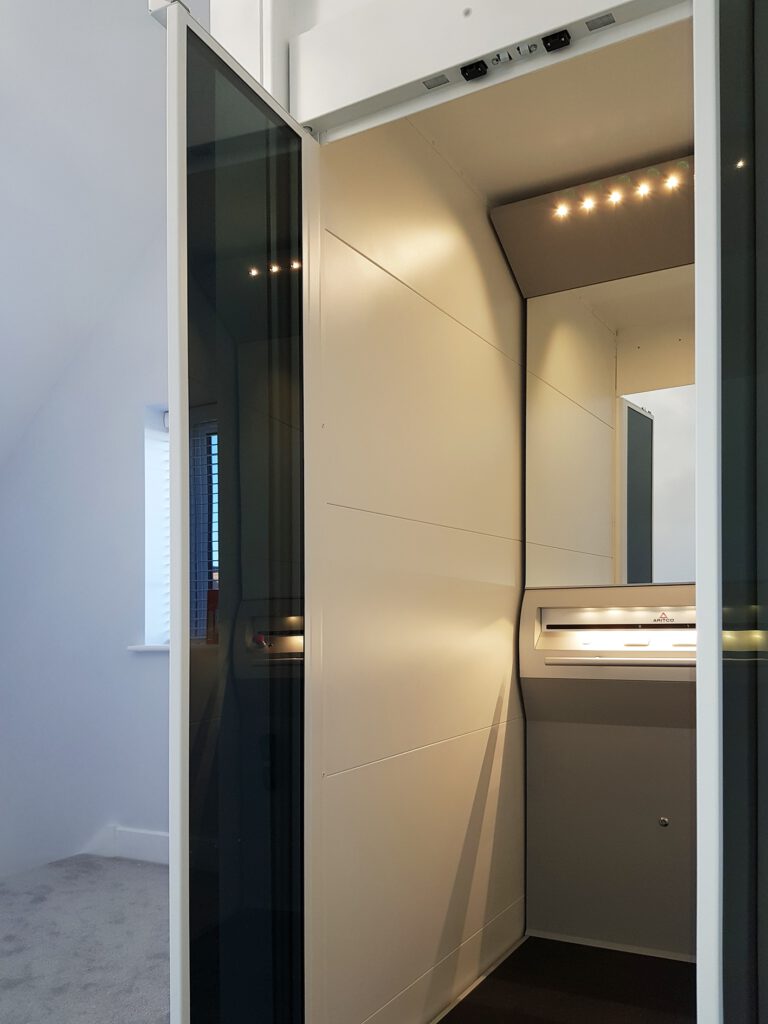 How Much Does Lift Modernisation Cost?
Lift modernisation costs can vary widely, which is due to the variations in each installation. Factors that might affect the overall costs include the age, extent of repair or renovation and the price of the replacement lift, complexity or quality of the earlier installation and other things.
For a guide on how much through-floor lifts cost you can check out our blog post on the topic.
How Long Does Lift Modernisation Take?
Lift refurbishments can take longer than regular installations because you must first inspect, remove and replace all of the components, which takes time. Complications, such as structural issues or other problems in existing buildings, can also lead to unforeseen delays in some cases.
See the Impact of a Modern Lift Installation
We have many exceptional case studies with high-resolution pictures and notes about the work we complete in new and existing lift systems. With a variety of commercial, industrial and home lift projects on our roster, there is some inspiration for modernised lifts in every kind of setting.
Our work leads us to all sorts of diverse locations, from terraced houses to car and motorcycle showrooms and many retail settings too. As a result, we understand the precise needs of our clients and will customise them accordingly. We can deliver results for new and old buildings.
---
Get a Sustainable, Cost-Effective Lift Modernisation
Our team are award-winning experts in providing new lift installations, lift upgrades, repairs and ongoing servicing. With over 25 years of experience, you can rely on our high-quality lift designs, non-disruptive installations and generous, extensive aftercare packages.
If you would like to give lift users all of the benefits listed above, such as if you have an older lift system in a historic building, we can help with our sustainable designs, which will bring older or out-of-date lift systems up to scratch. Please feel free to get in touch with us to find out more.