You might think that installing a residential lift for your home will be expensive, disruptive and perhaps not even worthwhile. However, we offer many beautiful, cost-effective, easy-to-run and easy-to-install domestic lifts that use clever integral drive systems and offer multiple design options to allow your lift to be tailored to suit you. You can install a domestic lift easily in almost any new or existing home.
But what is the best lift for home use? Here, we will explore our range that also make ideal residential elevators. We specialise in platform lift models that do not require a large pit or separate machine room, meaning you can raise and lower the platform in a much smaller space than a traditional elevator. As a result, there is an option for all size homes.
Each lift is designed with exceptional accessibility, sustainability and a hassle-free installation in mind. For a future-proof lift installed to the highest aesthetic and safety standards, please get in touch with us and find out more.
Get in touch
The Best Lifts for Homes in 2023
Below, we have provided a breakdown list of the best lifts for small, medium-sized and large homes; all of them are available to buy and install from our incredible home lift range:
1. Limited Space: Gartec HomeLift Compact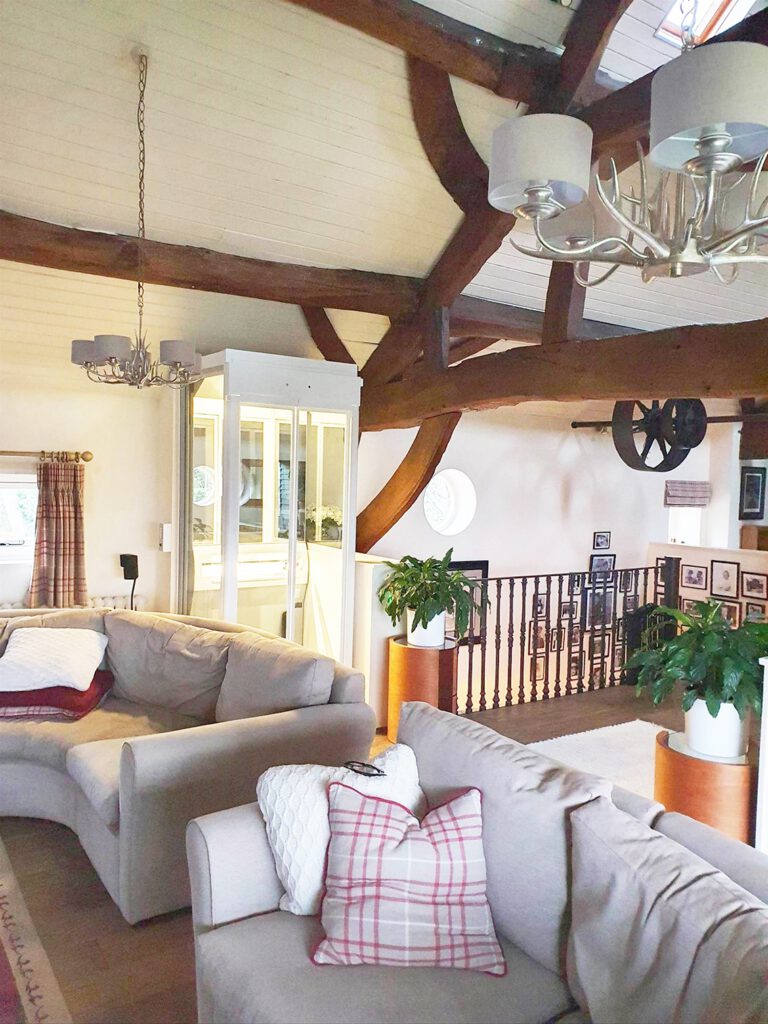 If you have a smaller home you can still install a high-quality lift. Our installation team specialises in clever cupboard-to-cupboard installations, lifts for sloping or vaulted ceilings, and other smart installation strategies, so you will have ample opportunity to fit a life-changing new domestic lift.
The best lift for most small homes may be the Gartec HomeLift Compact, which gives you an accessible size lift in the most compact possible space. Useful features include:
3 platform sizes, depending on how much space you have (note that the medium and small platforms are unsuitable for wheelchair users)
Travel up to 15 m between 6 floors
Super eco-friendly travel, thanks to the smart integral screw and nut drive system
Check out our page on small house lifts for other residential lift designs, which are ideal for smaller houses, and see the full brochure of the Gartec HomeLift Compact for more information.
Download the Gartec 4000 full brochure
2. Moderate Space: Gartec HomeLift Access 
If you have a moderate amount of space to install a lift, you might consider installing a compact but still highly-functional lift design. The essential features that make a lift compact yet functional include a smaller shaft enclosure, integrated electrics, and very small pit or ramp requirements.
The Gartec HomeLift Access checks all of these boxes. You will receive a small, discreet lift that offers top performance, highly secure safety features, and wonderful customisation options. Features include:
High weight capacity of up to 500 kg, which is enough to handle up to 5-6 people
8 different platform sizes, depending on the space you have
Ultra-low operating costs, only using about as much energy as a kettle or hairdryer
Please view further details and specifications of the HomeLift Access in the full brochure.
Download the HomeLift Access full brochure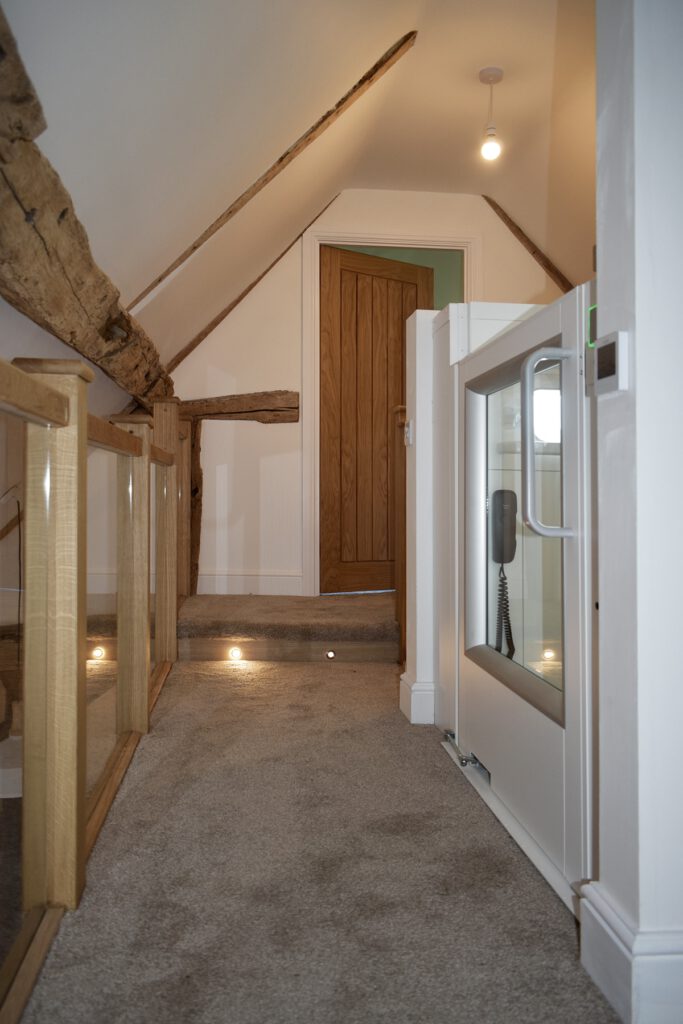 3. Lots of Space: Gartec Home Cabin Lift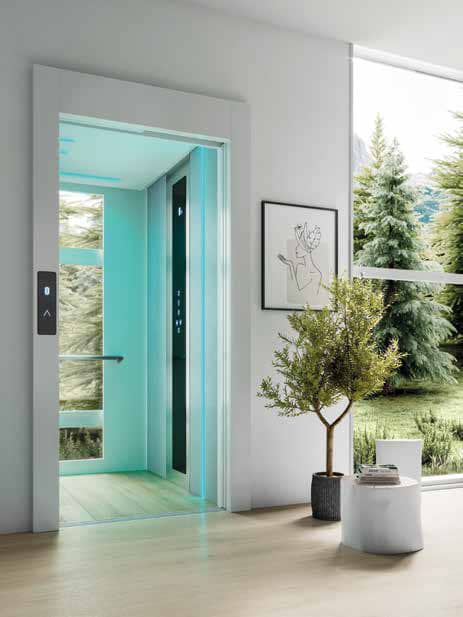 You might have a bit more room when you are installing the lift in an attic, stairwell, garage or another location, and as a result you might decide on a slightly bigger and more functional lift. The larger lift structure gives you a better level of support, so they are perfect for wheelchair users, passengers, or both.
The best lift for homes with a larger amount of space is the Gartec Home Cabin Lift, which gives you the functionality of a commercial lift with an eco-friendly design. Features include:
Integrated belt drive system, which means there is no machinery outside of the lift's footprint
Stand-alone structure, which means only minimal construction work is necessary
Doors on up to 3 sides, so the lift can be installed almost anywhere
You can view some more details, pictures and find the exact size specifications of the Platform Cabin Lift in the full brochure.
Download full brochure
How to Find the Best Lift For Your Home
Of course, it is not just about space; the best lift for your home might be one which offers a specific feature for the accessibility needs that you have, for instance, and there are many other considerations that go into choosing your home lift. Below, we have provided some top tips on narrowing down options for the best lifts for your home:
Think safety features: Safety is important if your home lift is essential for accessibility, such as if you live with mobility issues or use a wheelchair. Useful safety features can include battery backup systems, which provide peace of mind in case of a power cut.
Finishes: Having a jarring, poorly-fitted lift will detract from your interior design. Adding decorative finishes during the installation and on the lift itself can help to ensure that your lift matches your decor, so you need top installers with ace designs.
Assess price: Home elevator prices vary greatly. Bigger lift designs cost more and installations take longer. You can avoid unnecessary expenses by choosing the right design. You can reduce costs by only including features you need or plan to use.
How many floors do you want to access: The height you can get to in a lift is a key consideration. While many people will find they only need a lift for moving one storey, you might need a different design if you need more than this.
Operating costs: A lift can enhance your quality of life, but paying for the operating costs may well detract from that! You can find energy-efficient designs from our home range, which will use as much annual energy as a normal household appliance.
Noise: Noisy lifts can be annoying, so smooth mechanisms such as the belt drive and screw and nut technology in many of our lift designs can make a big difference to noise, energy efficiency, and the overall smoothness of your journey between floors.
By using these points as a guide you can narrow down your selection more easily. Take a look at our full range of home lifts for more detail and a breakdown of all the lifts we have. If you have any trouble whatsoever, we will be glad to guide and advise you through the decision-making process.
Take a look at our full range of home lifts
Contact Us to Install a Sustainable, Reliable Domestic Lift
We have over 25 years of experience in installing superb residential lifts for homes and you can ensure you have elevators installed to the best possible standard when you enlist the services of our talented team. We can assess, suggest, and install the best lift design for your home.
Installing a lift might seem like a hassle, but we offer completely non-disruptive designs and a very efficient installation. We only ever provide sustainable, aesthetically-pleasing lifts, and will install them to your exact specifications. Get in touch with us to find out more.
Get in touch