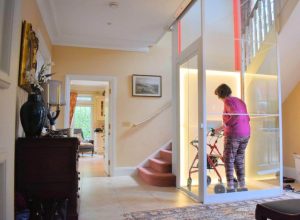 The Challenge
Andrew and Paula were looking to make their self-build home accessible and futureproof to make living with Parkinson's simpler.
The couple wanted a lift that would fit in their entrance hall stairwell area, but allow light through the airy and bright space.
The Lift
They visited our accessible Buckinghamshire showroom to try our smart HomeLift out.
The simple operation and stunning glass finishes meant they could keep the bright entrance hall whilst also having a small footprint to fit into the stairwell space.
The upper floor was a narrow hallway space, and our home lift manager, Matt, suggested bi-fold doors on the upper floor. The bi-fold door meant a much smaller opening space and was ideal for keeping the narrow space easy to navigate with the lift doors open.
The Installation
Our HomeLift was installed in the hall area in just 3 days – and it allows a huge amount of light through. Whilst they won't use the app much, the lift can be tailored to their mood and can be set by our engineers when they visit.
The couple decided to continue the custom large tile flooring underneath the lift, so when it is upstairs the tiles are seamless on the ground floor.
The Result
Andrew and Paula are thrilled with their new home lift and even threw a lift party to showcase the lift to their friends and neighbours – with a new lighting colour scheme created on the SmartLift app especially for it.
The stylish finishes really add to the entrance hall and will make a huge difference to Paula in the future.