The Project
Near the banks of the River Thames in Marlow, a new 4-storey home has been built by Bellwood Homes, a small home building firm. Designed with a modern, bright and fresh look, each room has been thoughtfully decorated. Making the most of the views, balconies and outdoor seating areas look out over the river. A smart home system finishes off the modern feel and adds a tech-friendly environment.
With a 4-storey layout, a home lift was required to futureproof the project and create an accessible layout across all the floors. Working around other building projects in the property, and fitting in the hallway locations, the lift needed to be modern but subtle.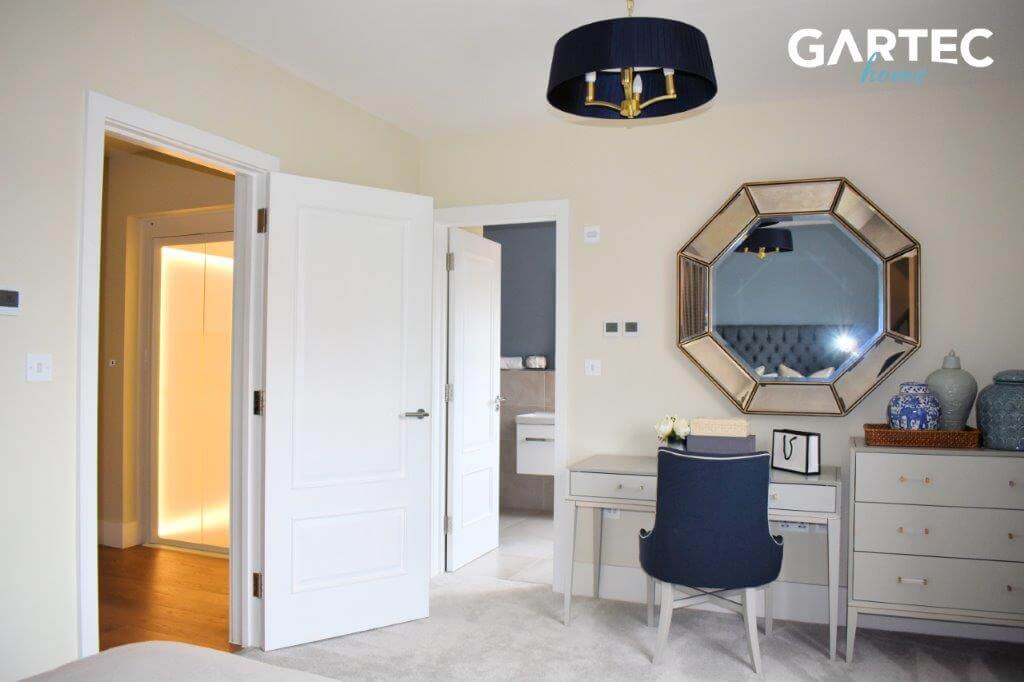 The Lift
Bellwood Homes contacted Gartec about adding a lift and they were thrilled to hear we had a smart lift option. With the possibility to tie in with the smart home system, our HomeLift was ideal.
Other lifts they had considered were not suitable and the HomeLift offered everything they required – up to 6 floor travel, a higher 410kg weight capacity, smart features including an i-Drive style controller, and lightbox-style rear wall for a stunning finish.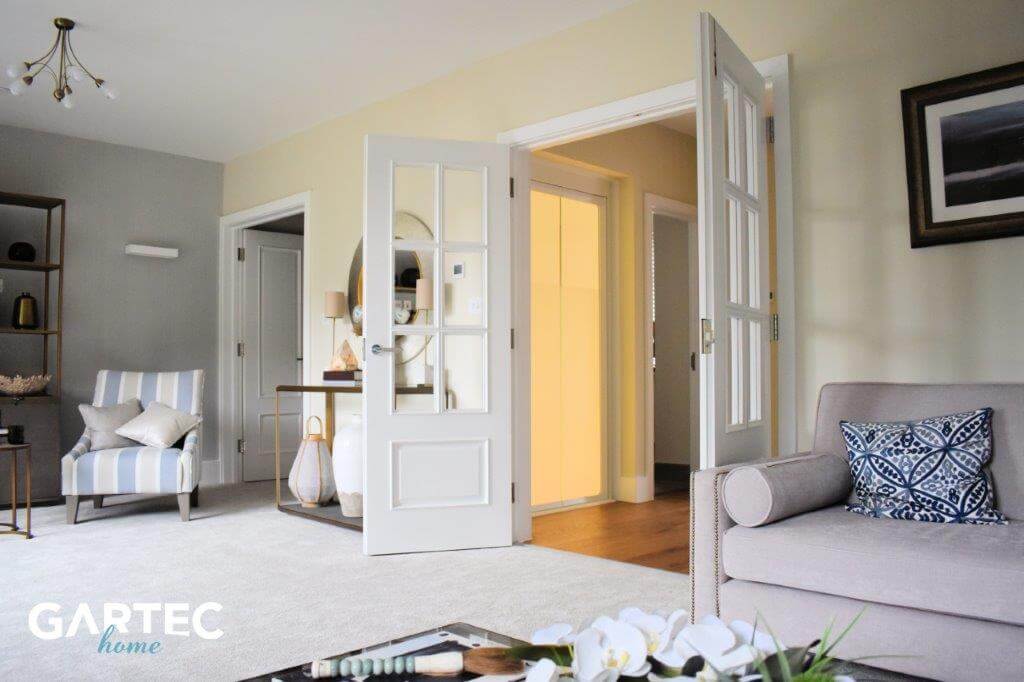 Choosing bi-fold doors also meant the space required for doors to open at each floor was reduced – ideal for the hallway location. The lift can be seen through many of the rooms that connect to the hallway, and compliments the neutral colours around the home.
The glass finishes work perfectly with the property, and the 3 day installation by our home lift engineers was possible around the other works happening.
Our home lift experts visited the house to make sure everything was in place and space was available.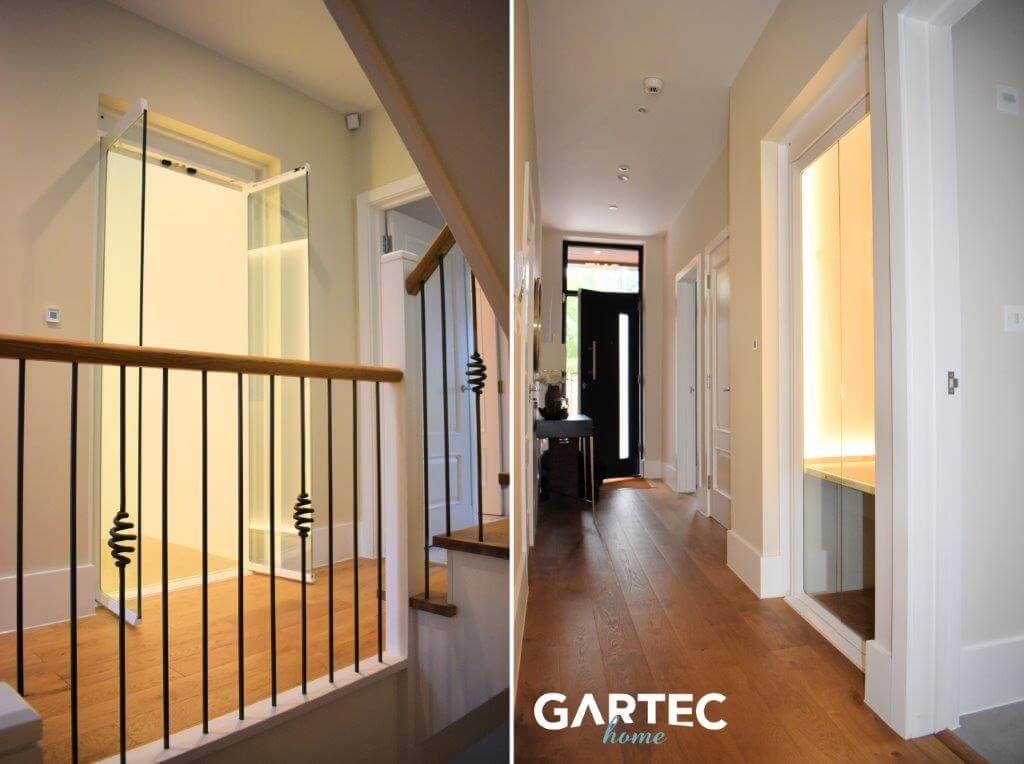 The Result
Now installed, the lift looks stunning running through the hallways and provides complete access over the property – even for a wheelchair user.
Bellwood Homes added some unique touches to the lifts too, putting a frosted film on the lower half of each door. Custom graphics with photos of the local area landmarks made them really personal, peeking through the doors on each floor.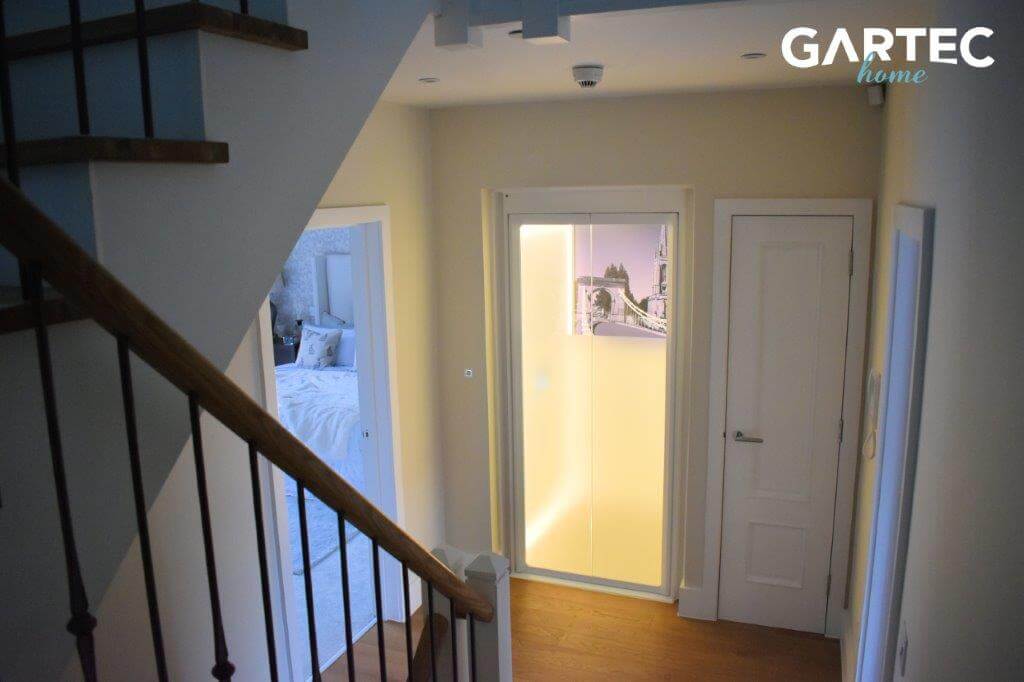 Interested in adding stylish and smart accessibility to your home? Get in touch with our home lift experts, or take a look at our HomeLift in more detail!