When inspiration and design ideas are in short supply, the SkyHouse Design Centre in Amersham, Herts, is a fantastic resource, bringing together a whole host of brilliant design-driven home installations in one showroom to make it easy for you.
Whether you are an architect, project manager or homeowner, there is expert advice and ideas for everyone – without having to go into London.
"Having all these suppliers and services under one roof is a great for me – I can get decisions made quickly with a host of quality options for my clients to choose from"
(Richard, Octagon Developments)
Showrooms really help to visualise potential choices, and even see products and services that you may not have been aware of. The key benefits of a showroom are:
Potentailly find unknown products or services
Visualise products in a similar environment to the home
All products in a showroom are generally linked or of similar style, quality or type to pen up your options
Touching products and materials can help with the buying process
Expert advice, opinion and support with your plans
Showroom setup may give design ideas!
"Visiting the showroom really helped us visualise which options would work best"
(Kevin, Homeowner in Surrey)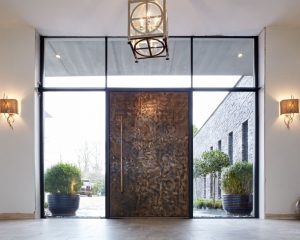 Each of the SkyHouse tenants has an expert in the field to give you professional and relevant advice, tips and support throughout the planning and design process. Some of the tenants are listed below, with a huge range of home improvement, renovation and design products all under one roof.
"…to have something as exciting and inspiring as Sky House taking a home in Amersham is spectacular. The town of Amersham is a perfect location for such a contemporary centre of design…"
(Nigel Shepard, Councillor)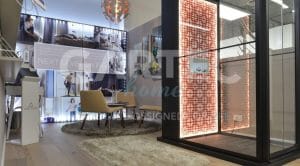 Gartec has a great spot at SkyHouse, showcasing our fantastic Modern Living Home Lift with smart features including an app to control mood lighting and smart servicing alerts.  Look out for our stand update coming soon.
Keep an eye out for some great events coming up at SkyHouse too – including a summer BBQ and CPD seminar sessions from our experts. You can find all the details on the SkyHouse website.
Fancy a visit to the SkyHouse design centre?  Just call 01494 722880 or email info@skyhousedesigncentre.com – we look forward to seeing you soon!