External Wheelchair Platform Lifts to Enhance Your Quality of Life
Most people living with impacted mobility consider options for disabled access inside their homes via access lifts. However, you can also install an outdoor platform lift that will give you complete freedom to use your garden or other exterior space. Our products help people to stay in their homes, inside and out, and can help avoid the need to move into a care home.
About Our External Wheelchair Platform Lifts
We can install high-quality outdoor wheelchair platform lifts, with weatherproof designs and reliable, energy-efficient mechanisms. By choosing us you also get the following benefits:
Aesthetically-pleasing designs and installations:

We take pride in the sheer beauty of our lifts, which incorporate sleek metals and have a Scandinavian look. Each lift is designed to look good by itself but we also work hard to deliver attractive installations.

Non-disruptive, smart installations

: We can install an outdoor lift in a clever, discreet way and our team can find a solution that avoids extensive landscaping or other work. Lifts will be installed by our talented engineers who have over 25 years of experience.

High-performance lifts for wheelchairs

: Each of our vertical platform lifts is designed with energy efficiency and safety in mind. With efficient drive systems and excellent safety features, wheelchair users can access their exterior space with total confidence.
Our lift services will give you a fantastic, low-maintenance lift that perfectly complements your outdoor space. Our award-winning team leads the home lift trade. Please feel free to contact us to find the external wheelchair platform lift that will best suit your outdoor space.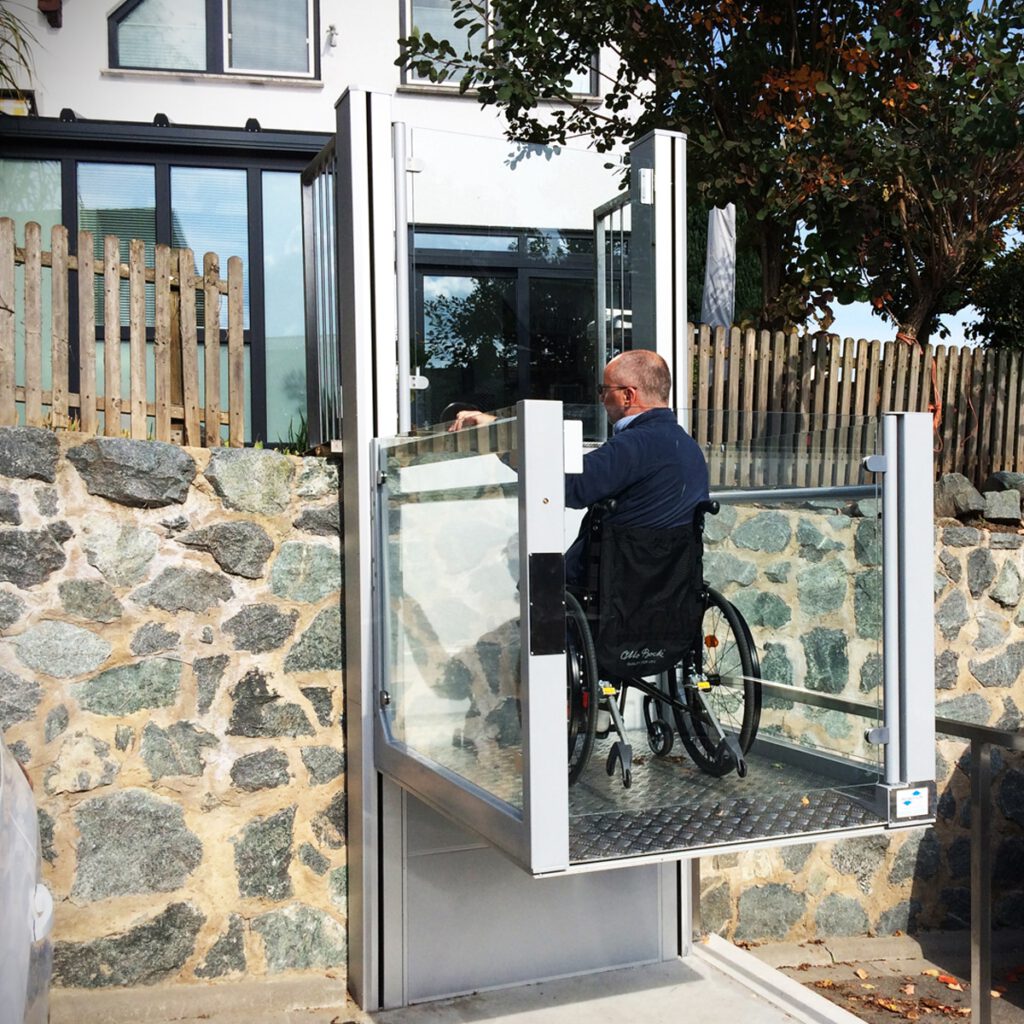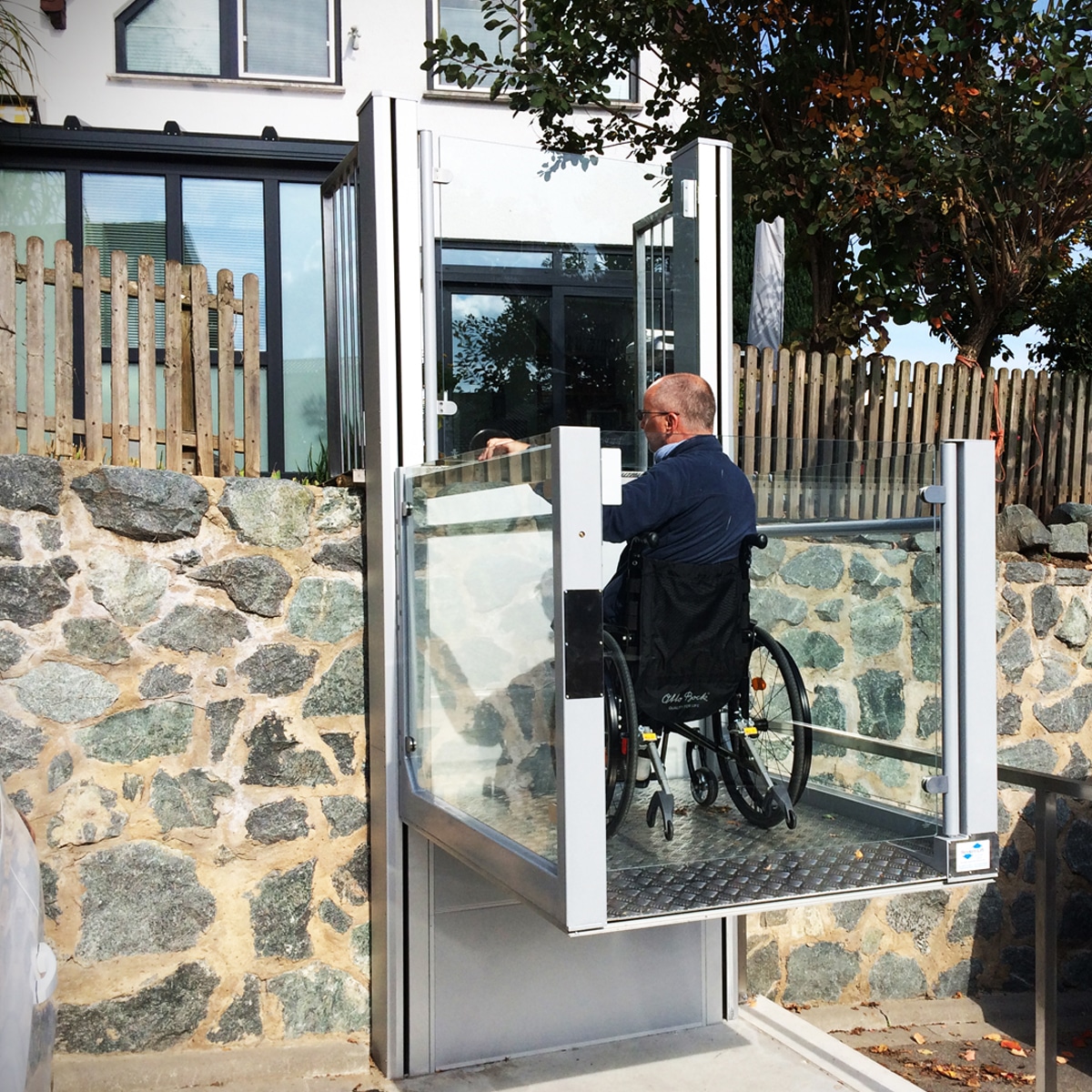 Discover Our Incredible External Wheelchair Platform Lifts
We have many options for all sorts of amazing home lifts in our range of products, but what will be most useful for wheelchairs in outdoor spaces is a step lift or a stair lift, which both make use of platforms. A stair lift goes along the side of the stairs, usually by using a rail, whereas a step lift uses a separate vertical platform, typically adjacent to the staircase. 
The wheelchair platform lifts models that will be most useful for outdoor use include the following:
Gartec 3000 Step Lift
This is a fantastic option for a vertical platform lift, which is ideal for a garden or another outdoor area in the home and will give you the heavy-duty functionality of a step lift in public buildings like airports and train stations. The Gartec 3000 Step Lift has a total footprint of 1500 x 1639mm.
Prices start at £6,000. Some useful features of the Gartec 3000 Step Lift include the following:
Travel distance of up to 3 metres, perfect for low to medium-sized staircases

Extremely low maintenance design, which uses an efficient belt drive system

Fast installation, which can be completed in as little as 1 day

No enclosure or support tower for a sleek, slim footprint

Wide range of finishes available, so you can blend the step lift into your surroundings
As a vertical platform lift there are limitations to this design, such as if you have a curved outdoor staircase or a winding rockery. However, for many outdoor areas, it is the ideal solution. A Gartec 3000 Step Lift has a rated load of 400 kilograms so it is perfect for all kinds of wheelchairs.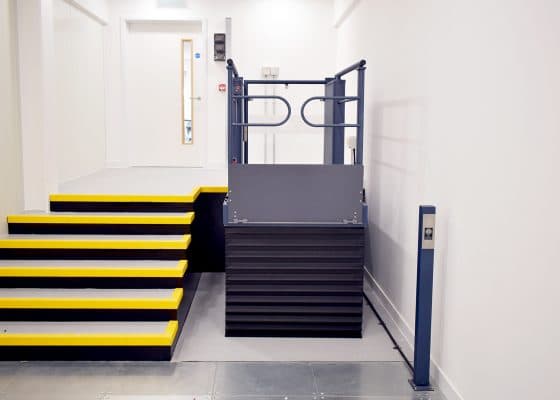 Gartec Platform Stair Lift
If you have stairs that are a little uneven, such as stone steps, then a platform stair lift may provide a better, slightly more versatile solution. The Gartec Platform Stair Lift is a good option for a simple but smooth-running mechanism that you can depend on indoors and outdoors.
Available at under £5,000, depending on the staircase length, features include the following:
Choice of three different platform sizes

Ultra low-maintenance design, 

225-kilogram weight capacity

Fully-motorised unfolding mechanism, for easy access while using a wheelchair
A wonderful thing about the Gartec Platform Stair Lift is that it has a very slim profile when in its folded position, so you are much less likely to see it from a distance and it is very discreet. So, if you want access to your outdoor space but would prefer a clean look, this is the best external lift.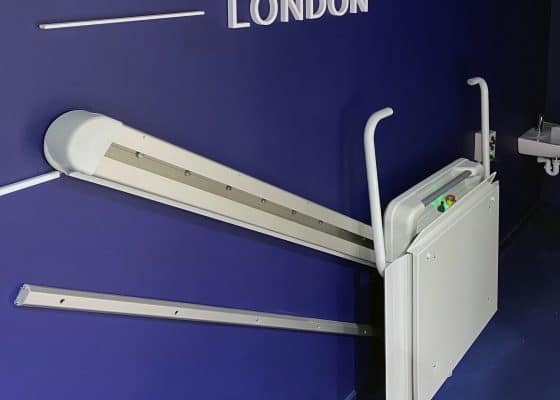 Install an External Wheelchair Platform Lift with Gartec
An effective Gartec home lift installation can free people living with mobility issues from the strain they face during daily tasks, whether that is in the home or outdoors. We work with a wide range of homeowners, architects and occupational therapists, helping to create bright, modern, disabled access lift installations that are ideal for both internal and external spaces. 
The best external wheelchair platform lifts from our impressive range are the Gartec 3000 Step lift and the Gartec Platform Stair Lift, depending on the terrain and the specifics of your outdoor area. You can get outdoor lifts installed in as little as 1 day! Please feel free to get in touch with us to start discussing what external wheelchair platform lift is right for your project.