You have probably had the experience of squeezing into a lift that is far too small, maybe with a companion or chunky backpack. Then again, you have also probably had the experience of entering a lift with the average square feet of a room in a house. This is because there are many different lift dimensions, which are usually dependent on the elevator system you are using.
There are several reasons for differences in lift dimensions, such as:
The type of lifting: Commercial elevator systems often need to lift heavy goods, supplies, and equipment – alongside passengers, in many cases. These lifts might need a higher weight capacity and a larger elevator size to accommodate this requirement.
Conversions and additions: A domestic lift in an existing building might be a modern addition, not part of the original design. As a result, you may find that many residential elevators need to use a small platform lift that fits within the available lift shaft space.
Range of accessibility: Accessible lifts, wheelchair lifts and types of disabled lifts often require a wider door width, room for emergency call buttons, and other features such as a more powerful hydraulic elevator motor. This can expand a lift's footprint by a lot.
In this article we will explain a bit more about the lift dimensions of standard lifts, accessible lifts and home lifts, as well as the criteria that goes into determining the most suitable lift size for a property.
We create innovative lift designs for home and commercial settings, which we then install with little disruption, so you may rest assured that we understand lift dimensions. Contact us to get a lift.
Standard Dimensions for Passenger Lifts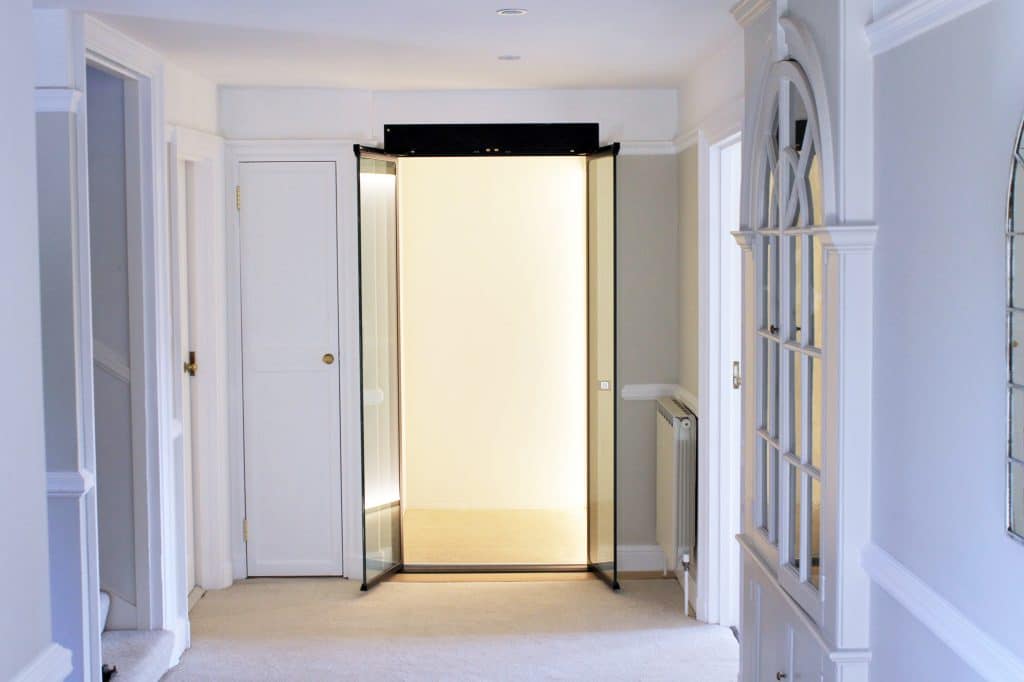 Passenger lifts are the type of lift you will find in the majority of public settings, such as the lifts that people use to go up to their floor in a hotel or to a certain level of a shopping mall.
There is no single set lift dimension; it all depends on how many passengers the lift is intended to transport. How many passengers an elevator car will take depends on many factors, such as the size of the building and the function (or type of the building).
For example, standard dimensions for the most common lift sizes in a residential building are 910 mm x 1220 mm with a 910 mm door width. However, the standard dimensions for the most common lift sizes in an office building are 1830 mm x 1530 mm with a 1220 mm door width.
Disabled Lift Dimensions
The UK's standard requirements for disabled lift dimensions are set by Building Regulations. These are in place to guidelines ensure safety standards and make sure public or commercial buildings adhere to equality laws.
The important parts of these lift dimensions are set out in a document titled "Access to and use of buildings: Approved Document M". You can see the full guidance on the government website here. The reason there are more regulations for accessible lift dimensions is to ensure that people living with disabilities have access to facilities, wherever they are while out in public life.
Confusingly, there is some room for variation here as well. The guidance states broadly that there must be a 1500 mm x 1500 mm area to move a wheelchair in front of the platform. If there is a wide straight access route, then the width guidance is set to 900 mm.
However, there is yet another twist to this; the guidance does not necessarily affect the size of the disabled lift car. For example, if the disabled lift is usable for standing passengers as well as a wheelchair user, Document M recommends a 2000 mm wide by 1400 mm deep car, but it may be bigger or smaller depending on the building.
So, you might have a very small platform lift for a single wheelchair user without an attendant, and this means that as long as there is an access width of at least 900 mm the lift will most likely comply with Building Regulations. It may be ambiguous, but the guidelines give you a lot of leeway.
Note that this guidance is only related to "buildings other than dwellings", so the regulations do not apply to any home lifts that a wheelchair user selects for personal use.
Residential Lift Dimensions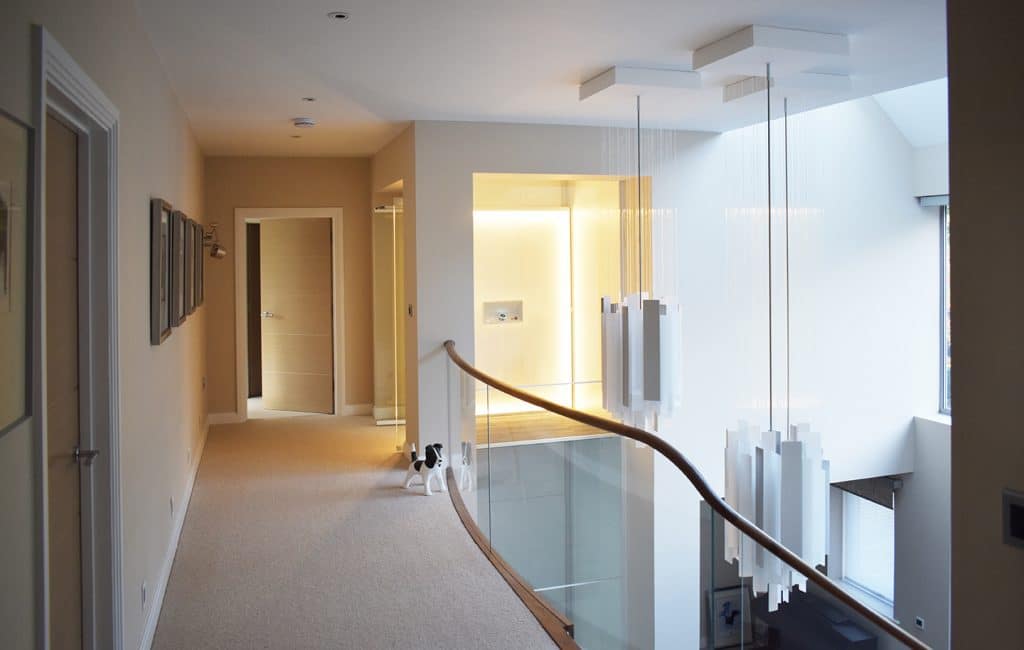 Thankfully, domestic lifts installed internally within private properties do not have restrictive lift dimension requirements. You may find that you need a domestic lift simply for your wheelchair, the transport of goods (such as when using a dumbwaiter), a wheelchair and an attendant together, or even just for use as passenger transport.
Whatever type of lifting you might need the lift dimensions will vary substantially, and within these types of lifting there are also a lot of different platform or car sizes to choose from. Below are some of the dimensions of various types of lifts we have available in our home lift range:
We specialise in finding the right lift dimensions for your space, meaning you can add a house lift to your residence for easier accessibility even if you have a relatively small area to work with. If you are an architect or interior designer we offer specialist services to help you find the perfect lift size.
Get a Domestic Elevator with Ideal Lift Dimensions
With such a wide range of potential lift dimensions it can be difficult to choose, but if you are an architect building a new home, a homeowner looking for a new domestic lift, an occupational therapist or even a contractor looking for a solution for your client, we can help.
Our team has over 25 years of experience in installing a range of amazing home lifts, and you can take advantage of their award-winning skills. Feel free to get in touch with us to find the right house lift with the ideal lift dimensions for any space that you have.