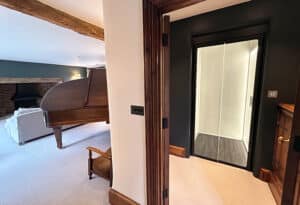 This striking bespoke oak framed house was conceived out of a desire to create a home that celebrated traditional design while also being fit for the future.
Oak frame home specialists Oakwrights and architects worked with this Harpenden couple to ensure every aspect of the layout, features and fixtures was just how they'd pictured them. Part of this vision was to install a homelift that would complement the design and ensure accessibility for elderly relatives now and for themselves in their later years.
Inspiring Design
Feeling downhearted by the array of 'clinical' looking lift options they came across; the couple's internet research led them to discover the Aritco Homelift. Inspired by how it combined style and functionality, they were also delighted to find a lift that could fit seamlessly into their home without looking out of place.
Drawing further inspiration from an image in the Gartec brochure, and after a visit to our showroom, the couple chose to conceal the lift in a small lobby on the ground floor with just the smoky black framed glass lift doors on view for a subtle and unobtrusive look with the lift exiting into a walk-in wardrobe on the upper level.
As the lift has a low headroom with no machine room above, they utilised the empty space by creating a nook for suitcases and bags over the top. To finish off the design, the surrounding wall was painted the soft black of Farrow and Ball Railings to match the lift doors, making a feature of the area, but also allowing the lift to feel part of the intended look. The added flourish of a brushed stainless steel call button faceplate completed the picture, for a final product that not only feels luxurious but which the owners felt would add value to their home if they ever decided to sell.
A Home For The Future
Matthew Akerman, Gartec Home Sales Director, said: "Building a forever home from scratch is a unique opportunity to truly make your home work for you and this is exactly what this couple did. Despite a four-year planning struggle, they have achieved a design that perfectly blends old and new.
"We worked closely with the client to ensure the lift's modern look did not jar against the traditional design and are delighted that we could help them create a feature that feels very much part of their home rather than an add on."
Specification
Lift: Aritco Homelift
Bespoke features: Bolon gradient flooring, smoked glass, black RAL 9005 doors
Technical details: S12 size platform (1000 x 1200mm), two stop, single entry door configuration, GSM autodialler
Reasons for purchase: Futureproofing their home, adding value