Food Lift Installations
We will install high-quality food lifts that are ideal for different service industries, including restaurants, cafes, hotels, pubs and more. You can easily transport food and plates, supplies, or equipment with our dumbwaiter lifts or trolley lifts, which are the perfect service lifts for the job.
You benefit from eliminating manual handling in a catering or restaurant food service setting, and you will get the following key benefits of our wide range of products and installation services:
Attractive designs

: With our high-performance yet low-cost stainless steel frame structures, multiple door options and other appealing finishes, we can help to install the perfect food elevator to suit the surroundings of your business.

Efficient installations

: We are prepared to offer access to our experienced team, who have delivered superb installations for more than 25 years. As a result, they can adapt to any challenges with ease and deliver a first-class safety and performance standard.

Sustainable products

: Not only will we install your new dumbwaiter or trolley lift quickly, but the products also use recyclable parts and are incredibly cost-effective to run. You will never have to worry about energy bills, no matter what level of use your food lift has.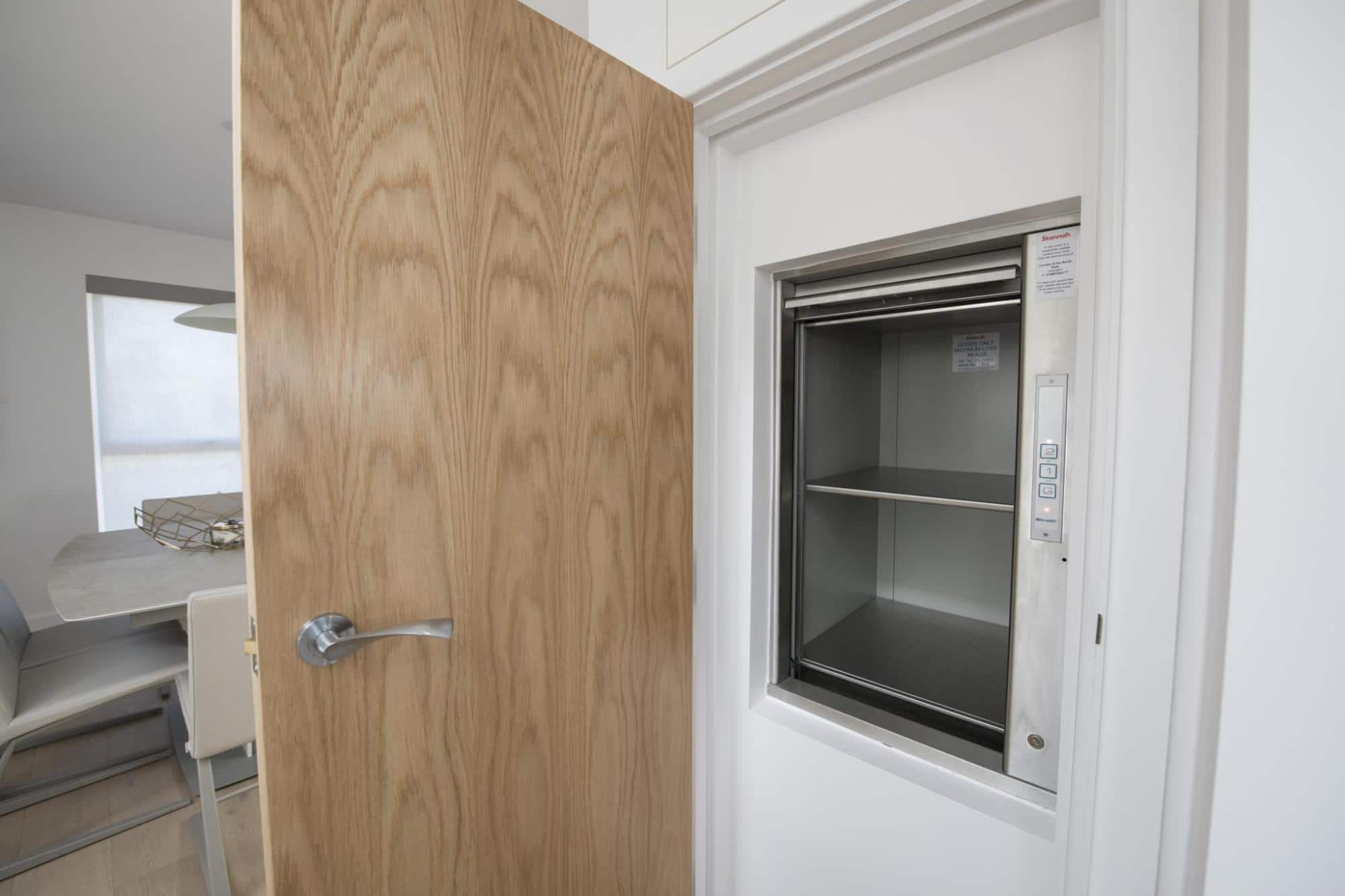 We pride ourselves on being incredibly easy to work with, both in terms of our simple, innovative products and our efficient, professional installations. You will see the outstanding food lift designs and amazing services we have to offer as soon as you get in touch.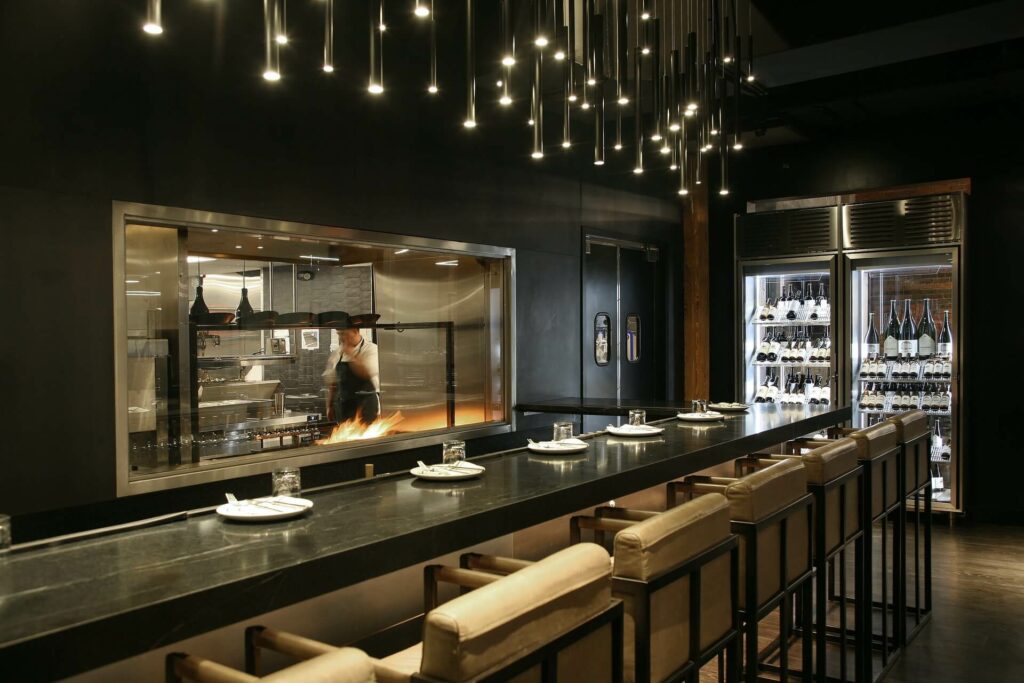 Types of Food Lifts for Commercial Use
Food elevators can move large quantities of food, such as a large container full of it or a series of dishes, or even just small quantities on a few freshly-prepared plates. As such, the two main types of service lifts are typically the most useful – dumbwaiters and trolley lifts.
When to Use a Dumbwaiter
A dumbwaiter, or 'dumb waiter', is a goods lift designed for small loads. You can use them by placing plates, trays and small quantities of food or supplies inside for easy travel between floors. Using a dumbwaiter is the sensible choice in the following situations:
You are moving medium-to-low quantities of food, such as a small tray, or things like glasses and plates, between multiple levels. Ours can serve up to 12 floors

You want the ease of movement of a larger lift but need it within a limited space; dumbwaiters are loaded at approximately waist height in most cases

You do not require transportation of people or large equipment, such as food service and preparation kits like tableside grills, carvery stations or other meal distribution equipment
Dumbwaiters make for handy labour-saving devices in more urban areas where space is at a premium, such as a restaurant in a terraced house conversion. Commercial dumbwaiters are more robust, faster and more efficient, but take up the same space as a residential dumbwaiter.
The Gartec Dumbwaiter is the ideal product for this use. See our full brochure for all the details.
View Brochure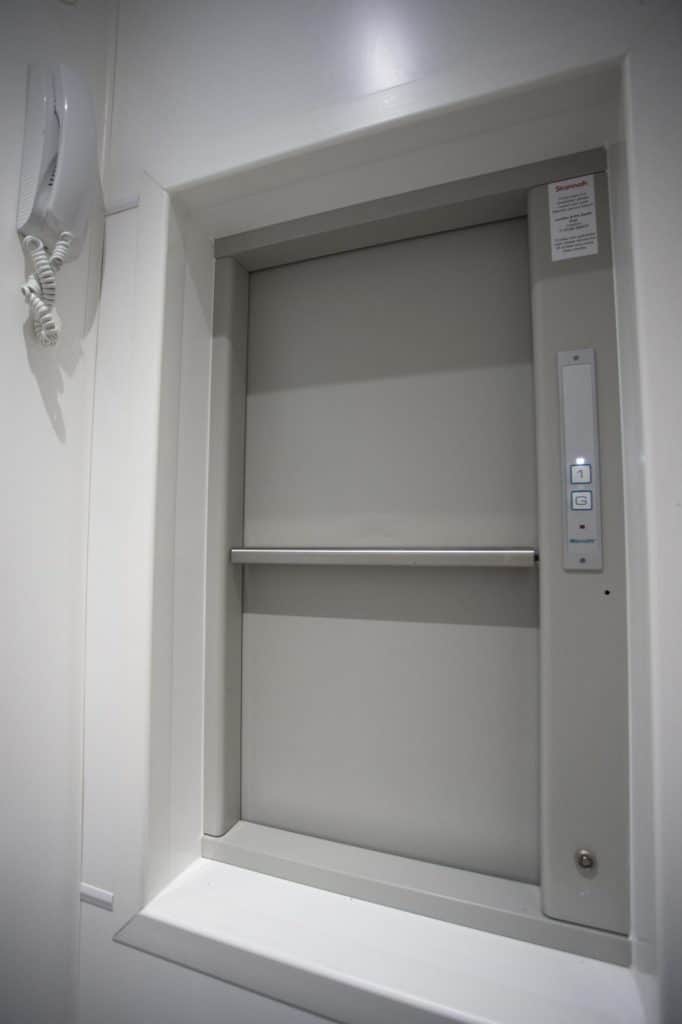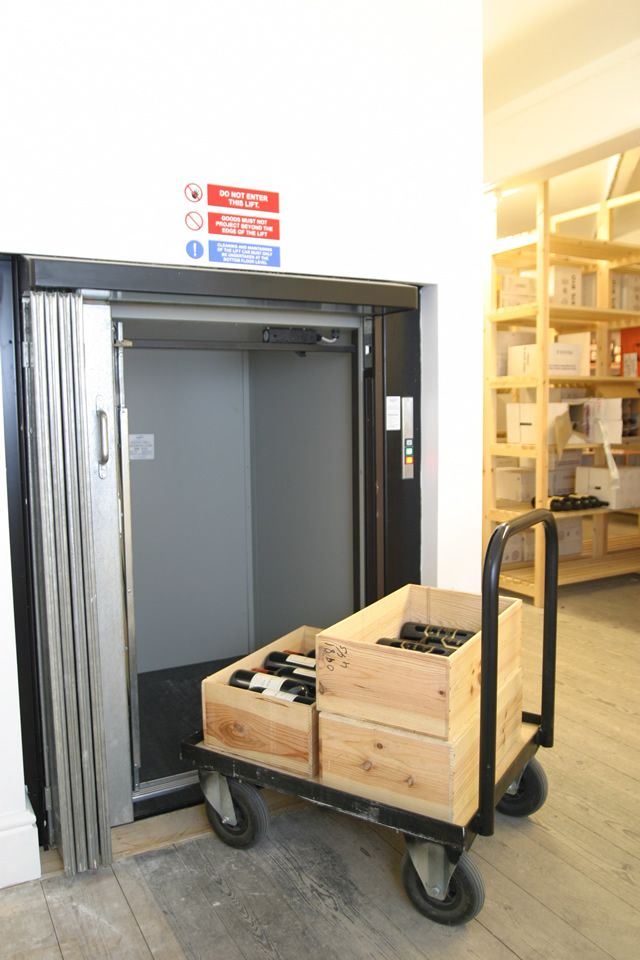 When to Use a Trolley Lift
A trolley lift is the best option for when you need to frequently transfer bulkier and heavier items, whether they happen to contain food or not. You will load a trolley lift from floor level but they are not full height or suitable for a passenger to use. They are ideal in the following situations:
You are using larger catering or service equipment to prepare and serve food outside of a kitchen

You do not have room for a full passenger lift, which could also be used for goods

You want a simple, reliable way of removing used cutlery and kitchenware at scale, such as with a clearing trolley
Cases of wine, stacks of plates or larger foodservice tools and equipment can all fit on a trolley lift. Almost anything that you can wheel onto the platform will be able to move between up to 6 floors. Our trolley lift models also have the amazing benefit of being able to move up to 300 kg.
The Gartec Trolley Lift is a top option for medium loads. View the full brochure for more details.
Start Your New Industrial Dumbwaiter Lift Installation
We offer extremely high-quality, aesthetically-pleasing lift designs and can install them with minimal disruption, and you will be able to start using the dumbwaiter as soon as possible, no matter which industry you are in. All of our clients are pleasantly surprised by how easy we are to work with.
We have been innovators in the commercial and home lift sector for more than 25 years and have a reputation for reliability and top performance. Get in touch with us to learn more about our industrial dumbwaiter lifts, or to find more out about any other of our exceptional lift products.
Get in touch