Install Compact Home Lifts in Tight Spaces
We can install compact home lifts in tight places such as a stairwell void or landing, from cupboard to cupboard or even on sloping and vaulted ceilings. Install a range of compact home lifts at cost-effective prices with Gartec.
About Compact Home Lifts
We have an exceptional range of residential lifts that are the ideal solution for small homes. By using clever designs that do not require a separate machine room, advanced lift installation and planning techniques and ultra-slim and efficient lifting mechanisms, we can fit domestic lifts in almost any size of a property. Our team specialises in aesthetically-pleasing designs.
Some of our most popular strategies for installing discreet hydraulic home lifts in compact domestic spaces include the following:
Standard installation: This is a simple room-to-room install, which is entirely possible to include in even a very compact home. We can use through-floor lift designs to ease travel from a living up to the main bedroom – and several other configurations as well.
Stairwells and landings: We can easily install a lift within the void of space in turning staircases. This is a negative space in the home that can be better used by a lift. Our bright metal and glass lift designs will ensure the home retains all of its natural light.
Cupboard to cupboard: You can also put a lift discreetly within a built-in cupboard, such as an airing cupboard or wardrobe. This method of installation is great as it completely hides the lift itself and can make it seem almost invisible when not in use.
Sloping ceilings: Angled walls often contain cavities that could make an ideal location for a lift. This lowers the amount of negative space in your home and our lift engineers can fit a compact design that makes maximum use of the room in a sloping ceiling.
Garages: If you have an attached garage, this is a superb option for saving space in the home. With a simple self-contained enclosure design, you can have a compact lift that takes you safely from the garage to another level inside your house.
Our incredible, innovative lift company uses the BREEAM system (or the 'Building Research Establishment Environmental Assessment Method'), which allows us to implement sustainable lift designs in existing buildings. Get in touch to discuss your options for compact lifts today.
Compact Home Lifts in the Gartec Range
Several of the lifts in the Gartec home lift range are ideal for small spaces. The best lifts for passengers, goods and wheelchair access in compact areas of the home include the following: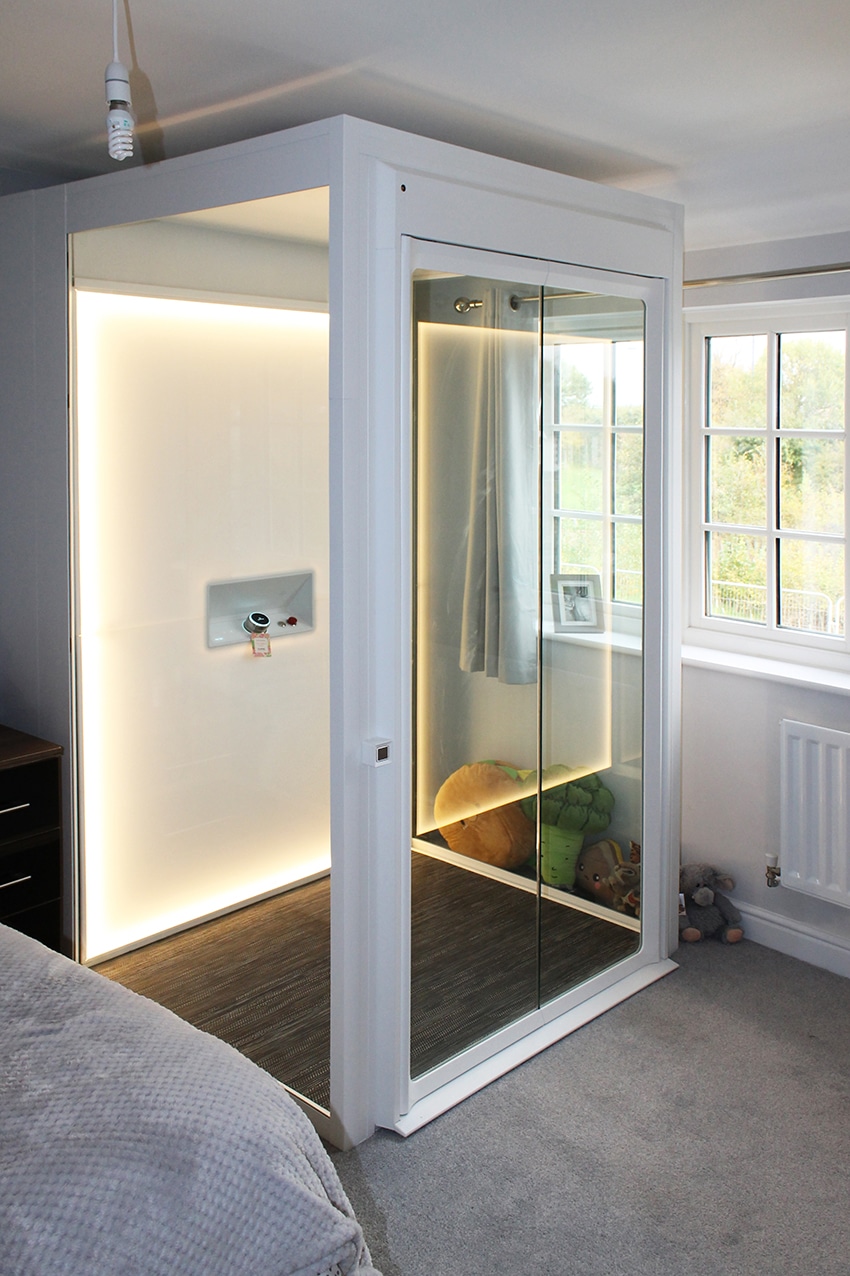 Gartec HomeLift (AHL)
The multiple lift sizes of the Gartec HomeLift (AHL) make it a fantastic option if you are looking for a compact lift with all the features of a much larger, more luxurious lift. This home lift has a very large travel distance of 250 mm to 15,000 mm, so it will be ideal for multi-floor townhouses.
The doors open on up to three sides, so you can easily exit from a different side on another level, which offers great flexibility. Available sizes of the Gartec Home Lift (AHL) include the following:
600 mm x 830 mm – rated for up to 250 kg
1,000 mm x 830 mm – rated for up to 250 kg
1,100 mm x 830 mm – rated for up 250 kg
1,000 mm x 1,200 mm – rated for up to 300 kg
1,100 mm x 1,400 mm – rated for up to 400 kg
With a self-contained unit, and no separate machine room, you will only take up as much space as the lift enclosure itself. The screw-and-nut system used to lift the cabin is also very efficient and quiet, so will not cause noise when travelling between multiple floors in a domestic setting.
See the full brochure of the Gartec HomeLift (AHL) for more details and technical specifications.
Gartec HomeLift Access
This is a compact home lift that will be a good option for domestic environments, particularly in cupboard-to-cupboard fittings or within a stairwell void. The lift is a fully self-contained unit and travels from 250 mm to 13,000 mm – or 2 to 6 floors – so it is ideal for almost any type of house.
It is ultra-energy efficient, which is important for home use, and requires only about as much power as a kettle. The available sizes of the Gartec HomeLift Access include the following:
900 mm x 1,040 mm – rated for up to 250 kg
900 mm x 1,280 mm – rated for up to 410 kg
900 mm x 1,480 mm – rated for up to 410 kg
1,000 mm x 1,280 mm – rated for up to 410 kg
1,000 mm x 1,480 mm – rated for up to 410 kg
1,000 mm x 1,980 mm – rated for up to 500 kg
1,100 mm x 1,480 mm – rated for up to 410 kg or 500 kg
1,100 mm x 1,580 mm – rated for up to 500 kg
The HomeLift Access is a great alternative to a stairlift as it will easily fit in a stairwell void, or any other negative space, which will take up much less room and be more discreet. This lift is also designed specifically for a home and will suit many uses, including passengers and light goods.
See the full brochure of the HomeLift Access for more details on its features and specifications.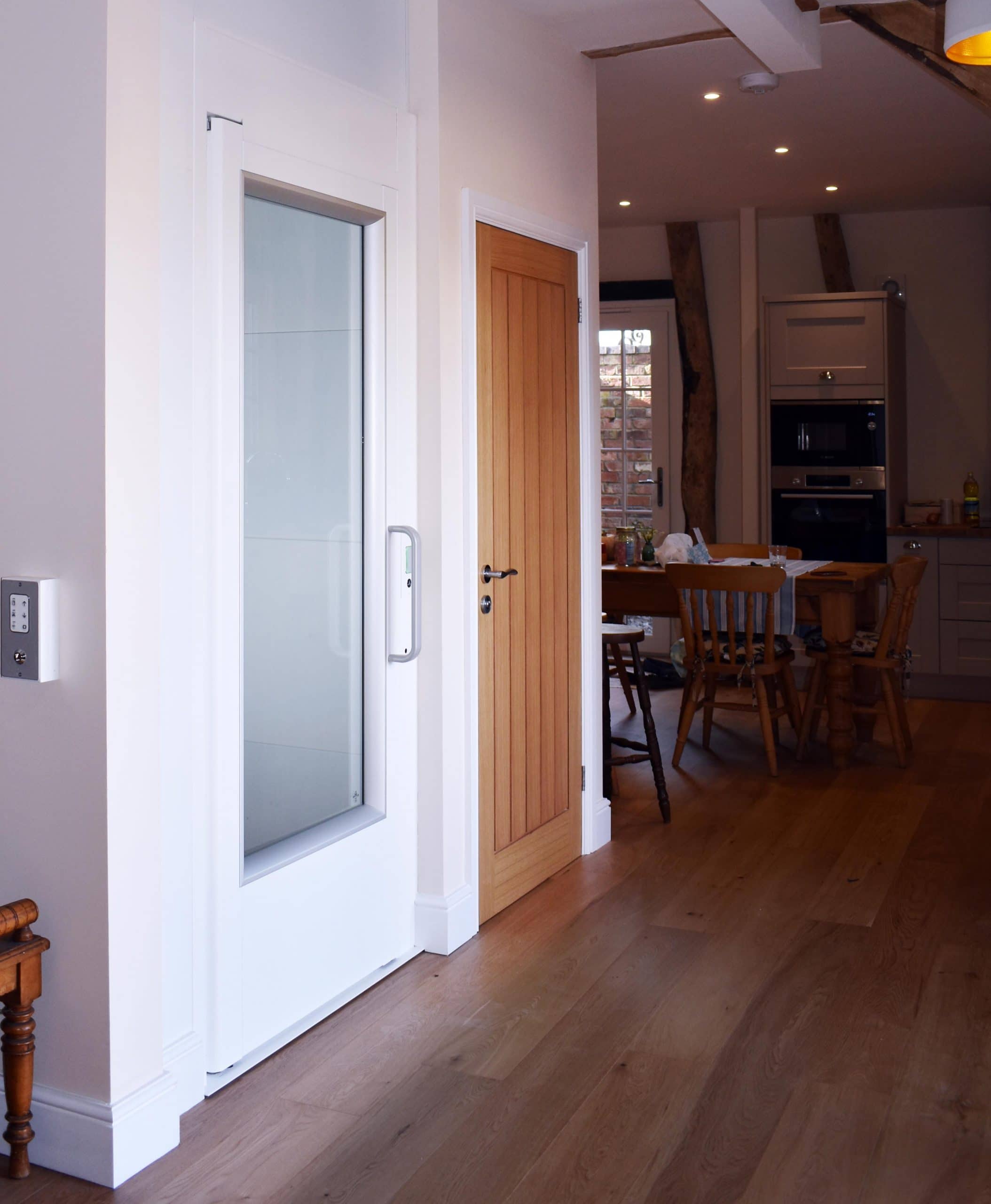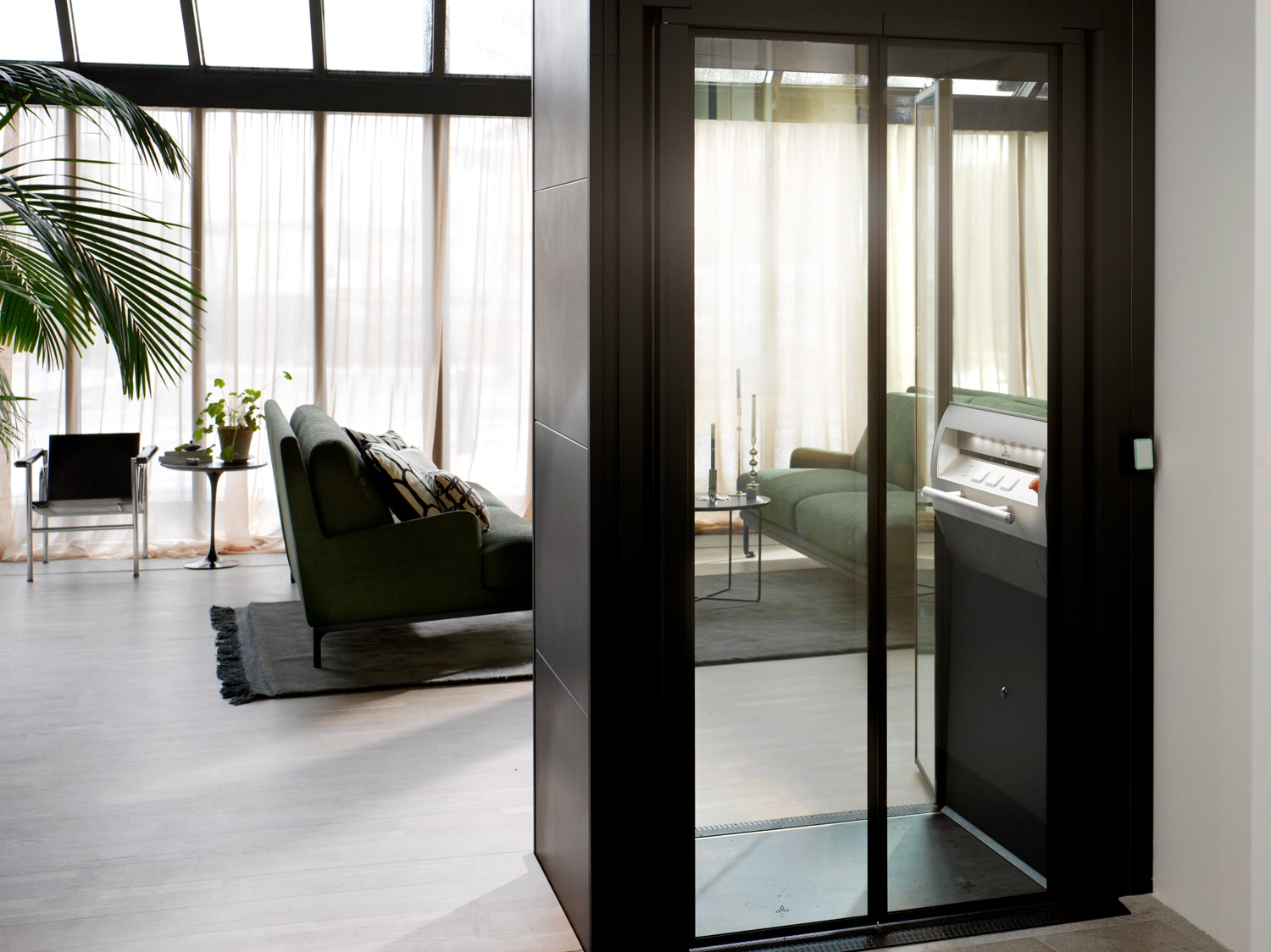 Gartec 4000 Lift
Suitable for just one wheelchair user or up to two passengers, this is a compact lift that is ideal for the home. It is fully enclosed, requires minimal building work and will be non-disruptive to install, which is fantastic for compact houses that need to move a passenger and light goods.
With a travel height of 250 mm to 13,000 mm, its small size still gives you an impressive travel distance across up to 6 floors. The available sizes of the Gartec 4000 include the following:
805 mm x 500 mm – rated for up to 250 kg
805 mm x 880 mm – rated for up to 250 kg
805 mm x 1,080 mm – rated for up to 250 kg
For ultra-compact spaces, this is a fantastic home lift option. The Gartec 4000 is very efficient and has a much lower load rating than the other lifts mentioned above, but is a nice option for the relatively basic lifting needs of just one person and light loads of laundry or other items.
Take a look at the full brochure of the Gartec 4000 Lift for further technical specifications.
Alternatives to Compact Home Lifts
A stair lift may work well in the home in some cases, such as in extremely small flats or areas where load-bearing walls cannot be adjusted safely to include a compact lift. In this case, the Gartec Platform Stair Lift may work well, which is a commercial product suitable for either indoor or outdoor spaces. In most cases, a solution can be found to fit a full-fledged lift, but this option is certainly a viable alternative.
Install a Compact Home Lift with Gartec
Whether you are an architect designing an accessible new build, a contractor refurbishing an existing house or a homeowner, we can help in finding a reliable compact lift. Our sustainable designs, low energy requirements and clever installations offer solutions for all sorts of spaces.
Our award-winning team has over 25 years of experience in the trade and will be happy to discuss all potential options. Please feel free to get in touch with us and find out more about our compact lift models and the estimated home lift prices for your new installation.