Lift Enquiry
Product Pages Enquiry Form
About
Created as a compact lift, we offer 3 platform sizes at 250kg, needing only a 50mm pit or ramp and no headroom, you can travel up to 13m (6 stops) with up to 2 doors on any side at each floor. Our innovative drive system uses a patented screw and nut mechanism, bringing you eco-friendly and super-quiet transport. Please note that the smaller sizes are not suitable for a wheelchair user – if this is a requirement please also see our larger lift model, the HomeLift Access and HomeLift.
With three platform sizes, the Aritco 4000 is suitable as both a standard wheelchair lift (large platform) or to carry up to 2 passengers (small and medium platform), great for any size property – and is eco-friendly to boot, using around the same amount of power per year as a washing machine.
This domestic lift comes with its own shaft enclosure, making it a virtually free-standing lift, and is very easy to install anywhere in a new build, or as a retro fit in existing properties. With single swing glazed doors or double leaf doors available in automatic or manual, the Aritco 4000 is both functional and stylish, designed to blend in and modernise any home.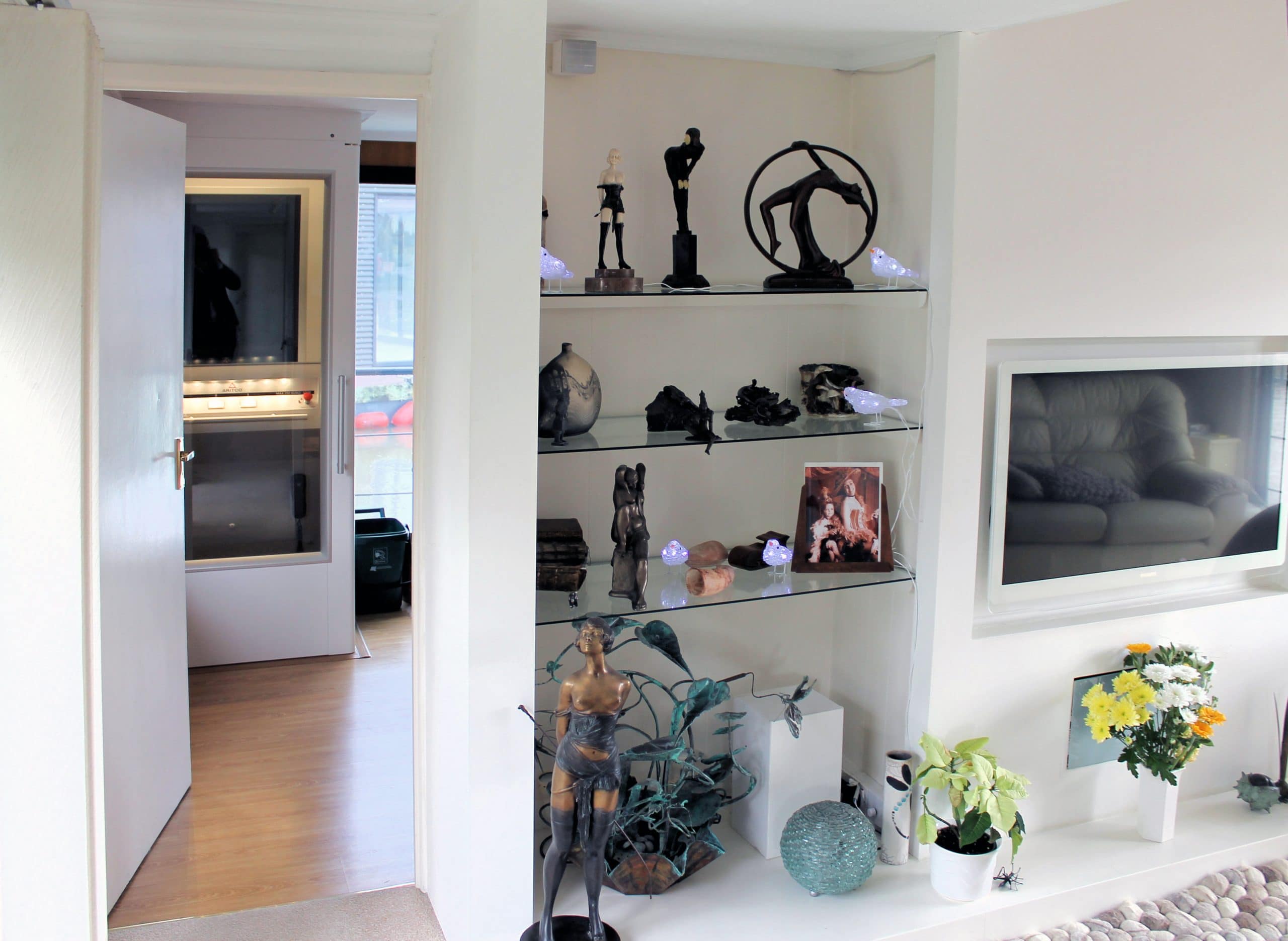 Multiple lift sizes, compact lift sizes available
Shaft enclosure supplied with lift
Glazed or solid shaft panels
Doors on up to 3 different sides
Single or double swing glass doors

Safety edges around platform
50mm pit or ramp
Integral electrical cabinet
Emergency battery lowering
Telephone or autodailler communication on platform
Safety
The safety edge perimeter stops trapped fingers, and the communication system is always on. You can also include as an option a locking facility to the doors or platform console to prevent people using it without you there, and the alarm button and emergency stop keep you in control.
Sustainability
Using steel, aluminium, glass and as little plastic as possible allows for recyclability of almost all the materials that are needed to manufacture Gartec lifts, with up to 92% of the materials used already from recycled and sustainable sources. All that is left which is non-recyclable are parts of the electrical cable system and the battery. Aritco, our parent company are constantly developing our lifts and as battery technology changes, our lifts will be developed to incorporate recyclable batteries.
With rigorous development to achieve maximum recyclability and the forward thinking on materials, manufacturing processes and new technology we are always looking to provide the most eco-friendly lift solutions. We are proud that every step taken from Design to Installation, sustainability and energy efficiency has been factored into the process.
When considering energy efficiency in your home, the Gartec 4000 home lift is powered by a 1.1kW motor which uses less energy than a standard domestic kettle or hairdryer. Similarly, the low-energy LED lighting and display components all contribute to a more sustainable and greener solution.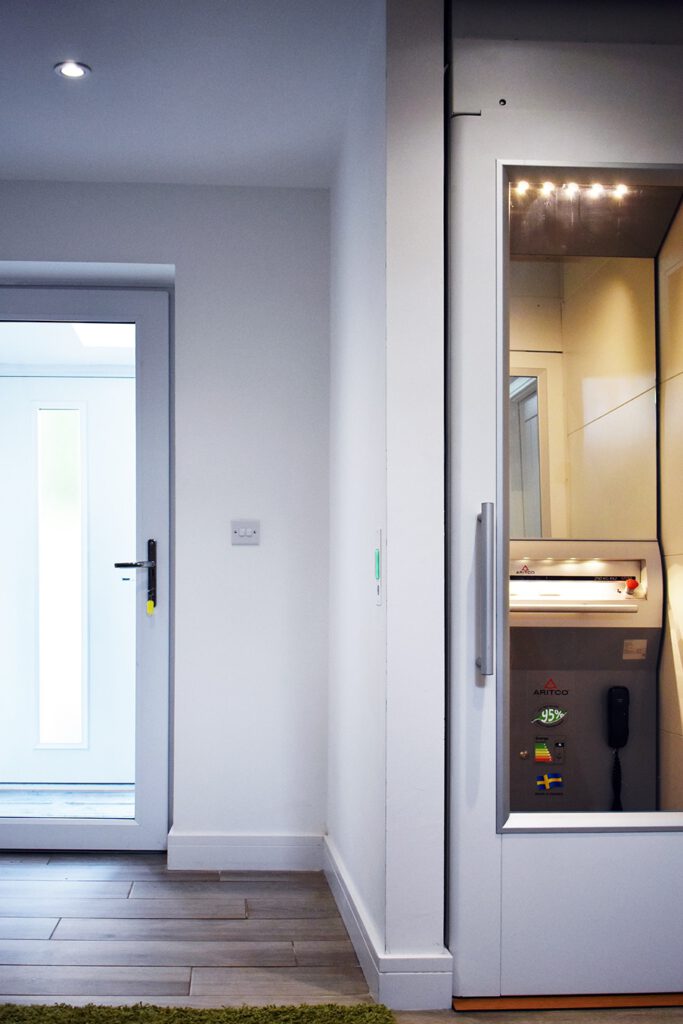 HOW DO ELECTRIC PLATFORM LIFTS WORK?
Vertical platform lifts are contained within a shaft. This shaft has guide rails along two corners of the shaft which help to guide the carrier, which is generally an L shaped platform attached to a mast. When using an open platform lift, the walls remain in the same place as the platform raises or lowers.
There is a wide range of electric, hydraulic, and mechanical platform lifts, including enclosed cabin lifts, industrial vertical platform lifts, and even hidden platform lifts. Cabin platform lifts work in the same way as normal platform lifts but, rather than having an L shaped carrier, the platform is contained within a box to give the feel of a conventional lift.
In order to use an open platform lift, applying continuous pressure to the up or down buttons will allow the user to reach their destination. From the outside, using a single touch button will call the lift to the floor. For enclosed cabin lifts, rather than having to apply continuous pressure, a single touch button will be found inside that can be used to bring the user to the correct floor.
We had a limited budget and Gartec worked out the very best option and price for us, they ensured we got the correct people involved regarding the design of the hole for the lift to travel through, and we duly placed the order. We had some misgivings about what we ordered as we were concerned about how it would look when it was installed and how obtrusive it would be, indeed we decided to amend the order so the lift had glass sides and wow! How glad we are that we did. The communication was first class all through and the aftercare has been very good.
I examined the market for a suitable lift for our premises, and Gartec had a lift that would fit into our small bar area and would not be too obtrusive, hence making contact and requesting someone visit to look at the site and advise on the best option for us, we are a grade 2 listed building and were having problems getting the planning permission for the lift to be installed where it would serve us best, Gartec made contact and arranged to visit us. Gartec was very professional and most helpful, and much more interested in getting it right for us than any of the other suppliers.
The cricket club is currently being used as a COVID vaccination centre and the lift is essential for those of limited mobility. Hence it was important to get the work done as soon as possible and on a day when the centre wasn't in use.  We're very grateful for the swift response from Gartec, the service engineer was also very competent and helpful.

---

Plymouth Cricket Club
"We turned to Gartec, and their innovative moving floor design. It was an attractive and successful option taking only 6 days to fit. The safety features include a remote lock and a Smart app operation from an iPhone, so parents can ensure no trapped fingers  or 'junior joyriding' – perfect for a family house. We have been impressed with both the product and professional installation, and would certainly consider Gartec again for another Octagon home."

---

Anton Dummer, Octagon Developments
"Both our Architect and Building Manager found Gartec Home professional, organised and proactive, and the installation process went smoothly. All the people my husband and I have dealt with have been helpful, and any queries dealt with quickly. The end result is totally integral to the build and reflects the modern architectural style."

---

Hazel Coomber, Brentwood
"I would like to say that everyone at Gartec has been very helpful. The lift is my lifeline and enables me to live here."

---

Barbara, Stourbridge
"The Gartec Home team were friendly and knowledgeable, they kept me informed and even tidied everything up at the end!"

---

Mary Jones, Abingdon
"Gartec offered a quick turnaround using a high-quality lift solution. It was important to have lifts that would complement the design and quality of the rest of the houses. The Gartec lifts offered this and only required a short installation period carried out by two friendly engineers. I am pleased with the overall look of the lifts installed and they will contribute to the townhouses being desirable to a bigger market. We look forward to working together again."

---

Keith Perfect, Bellwood Homes