Technical Information
Explore how our platform lifts work and about the lift drive system and our patented screw and nut technology. We also have a range of videos to view within the video page for further exploration into the lifts we offer. If you require any further information please contact us, we have lift experts that can offer advice and answer any questions you may have.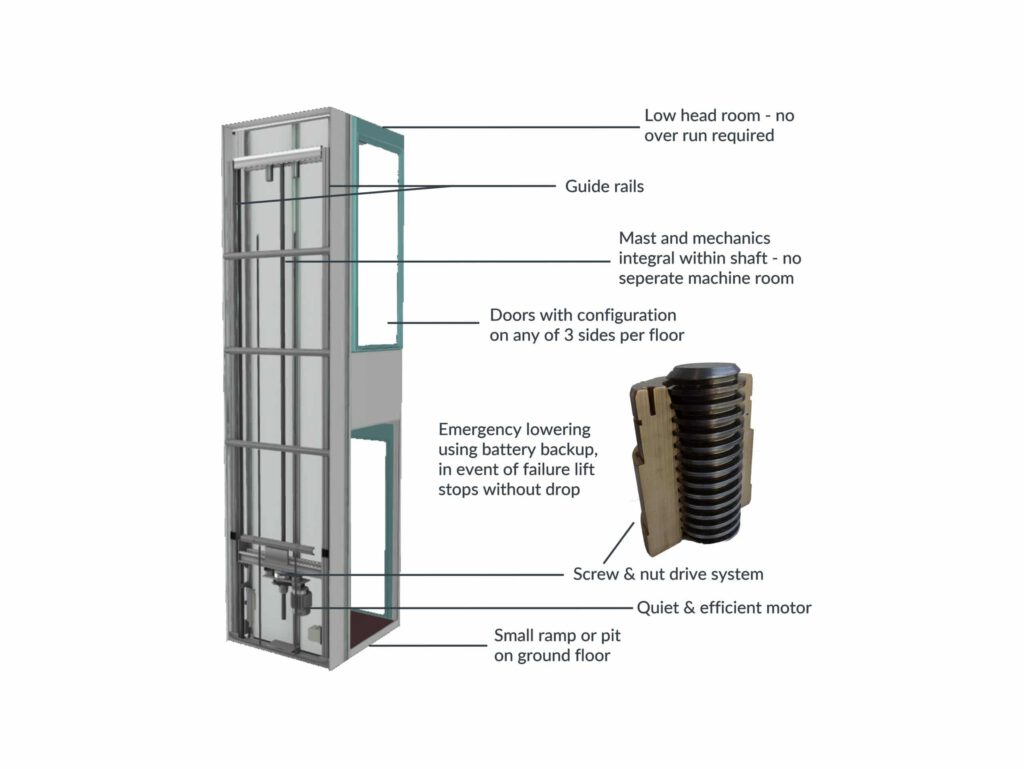 How do our lifts work?
Passenger platform lifts are a very simple and safe way to travel between floors.  The lifts come with their own shaft enclosure. Spanning one side is the lifting mechanism and guide rails. The lifts are driven via our patented screw & nut technology using a reliable, quiet and efficient motor. There is no requirement for a separate machine room, hydraulic oil or pump box.
Attached to the guides is the platform which is an "L" shaped carrier consisting of the platform floor and console wall.  The console wall has the buttons to operate the lift, handrail and communication device.  It is only the platform and console that move up and down within the lift shaft so as you travel the walls move past.
Operation inside the lift is by continuous pressure, and outside using a single touch button to call the lift to the floor.
Passenger platform lift features
Self-contained in own shaft – no pump box housing or machine room
Small footprint – not much larger than shaft
No overrun
Shallow pit – typically 50mm
Floor level fixing points only
No structural support or head fixing required
Modular design – limited building works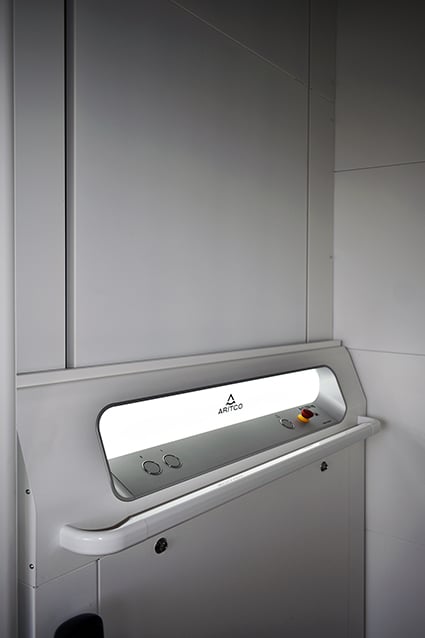 Energy usage
Gartec lifts all have eco-friendly features built in such as switching to standby mode after a pre-set time. Our lifts use less energy than a kettle or hairdryer for each use.
Patented screw and nut technology
Our platform lifts including the Gartec HomeLift (AHL), Gartec HomeLift Access and the Gartec 4000 all use our patented screw' and nut technology – a simple, strong and energy-efficient method to drive the lift up and down.
A threaded bar runs up the back of the platform to the top of the shaft, and a nut, which is attached to the platform, is driven up and down by a quiet and reliable motor.
Automatic lubrication of the screw is included as standard. It is connected to a sensor and timer so an indicator advises when levels are running low. All our passenger platform lifts can run off a single-phase power supply and have a battery backup for simple emergency lowering.
Screw and nut technology benefits
Low energy use – economical to run
Self-contained – no separate machine room
Quiet & smooth operation
Safe – secondary safety nut
Emergency battery operation
Low maintenance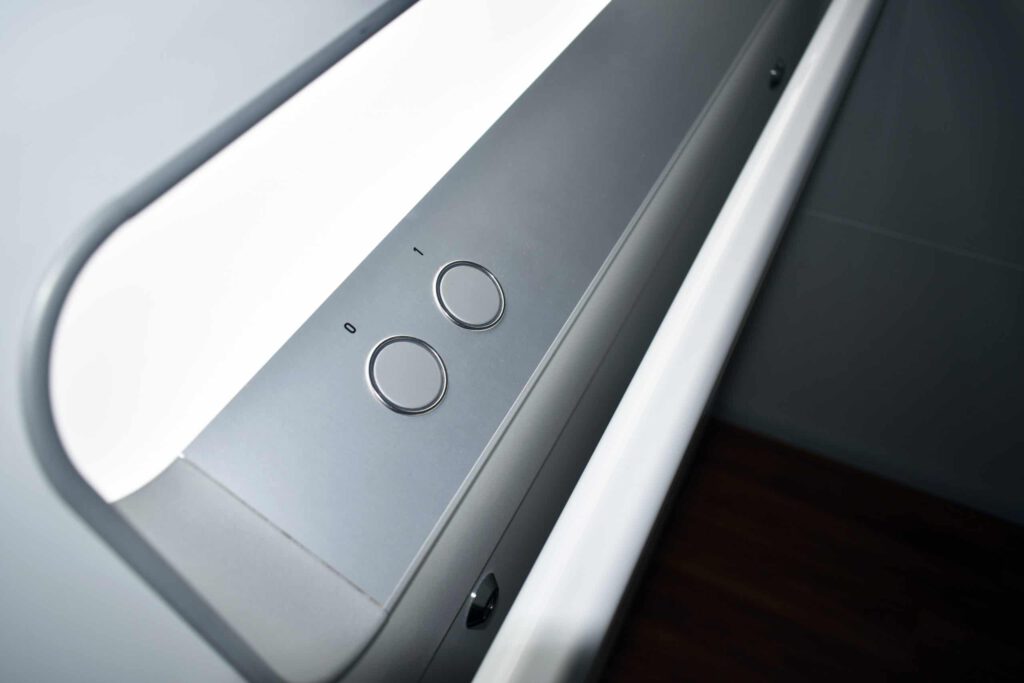 Passenger platform lift speed
Passenger platform lifts are governed by the Machinery Directive (not the Lift Directive) which means we are restricted to a speed of 0.15m/s. This may sound slow, but actually for a short rise this is similar to a conventional lift and in total only takes around 20 seconds to travel between floors.