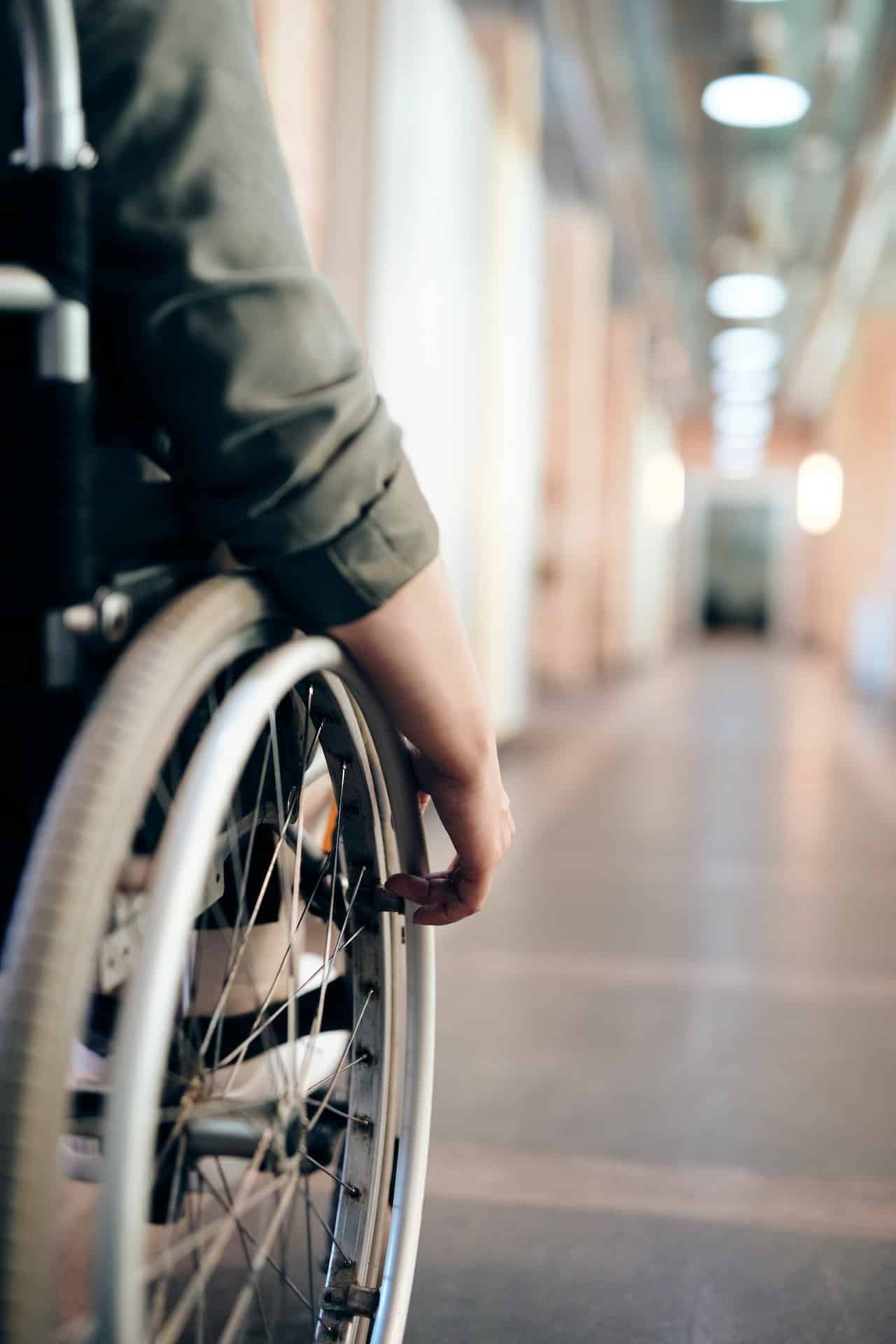 In recent years, diversity and inclusion have rightly become a much greater focus for corporate strategies, and industries across the world are honing their outlook and making vital improvements.
In this guide, we'll take you through what makes a workplace accessible and provide you with a checklist of changes you can implement to improve your own.
Why Accessibility in the Workplace Is So Important
An accessible workplace encourages diversity, and when disabled members of a workforce feel supported and accommodated it has a wide-reaching and positive effect on productivity and morale.
When a workplace embraces accessibility, it can:
Provide support to a wider pool of employees and customers.
Reduce the rate of reasonable adjustment requests.
Cultivate a positive attitude towards disability.
Prove their commitment to workplace equality.
The Disability Discrimination Act and Equality Act
In 1995, The Disability Discrimination Act (DDA) was put into place to protect disabled people within the UK. Since its creation, the act was amended extensively to remain in line with current legislation, and eventually repealed and replaced by the Equality Act in 2010.
This new and improved act protects not only disabled people, but encompasses all equality strands including gender, sexual orientation, age, pregnancy, religion, and race.
Note: The Equality Act covers all residents of England, Wales, and Scotland. The DDA still applies to all those residing in Northern Island.
5-Step Checklist to Make Your Workplace More Accessible
1. Adapting the Physical Environment
More often than not, especially when it comes to accessibility for disabled or physically impaired workers, tangible barriers are the main issue.
Common features that may need to be reviewed include:
Stairwells
For businesses that operate across multiple floors, workers should have unrestricted access to common areas. Assess your stairs and consider how accessible they already are.
Could you improve accessibility with ramps?
Could shorter inclines be streamlined with a robust stair lift?
Walkways
High-traffic areas such as corridors and entryways should be wide enough to allow wheelchair users to fit comfortably. If they are not, consider removing any cumbersome furniture that could be obstructing their path.
Signage
Safety and informational signage are vital resources for any workplace, and imperative to maintaining staff well-being. All signage on display in your workplace can be made more accessible in their design. Try prioritising vibrant fonts and colours, including braille panels to accompany them, or opting for auditory alternatives.
Lighting
Most light switches are installed for standing employees and sit too high for those in a wheelchair. All members of the team, and all those using the premises, should have access to and control of light. This ensures proper health and safety practices.
Ventilation
Good air quality is required by law in all workplaces, and adequate ventilation can improve both concentration and health. This feature can be easily overlooked when assessing a premises' accessibility rating, but it is a vital consideration. Be sure there are plenty of windows and doors, to promote healthy airflow throughout the work day.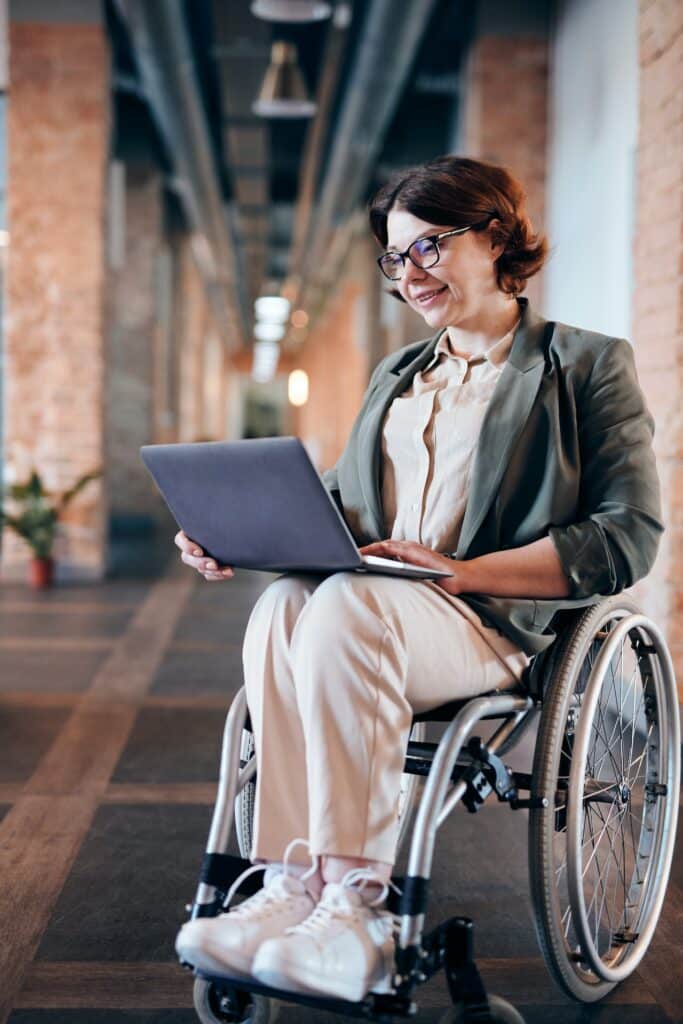 2. Implementing Assistive Technology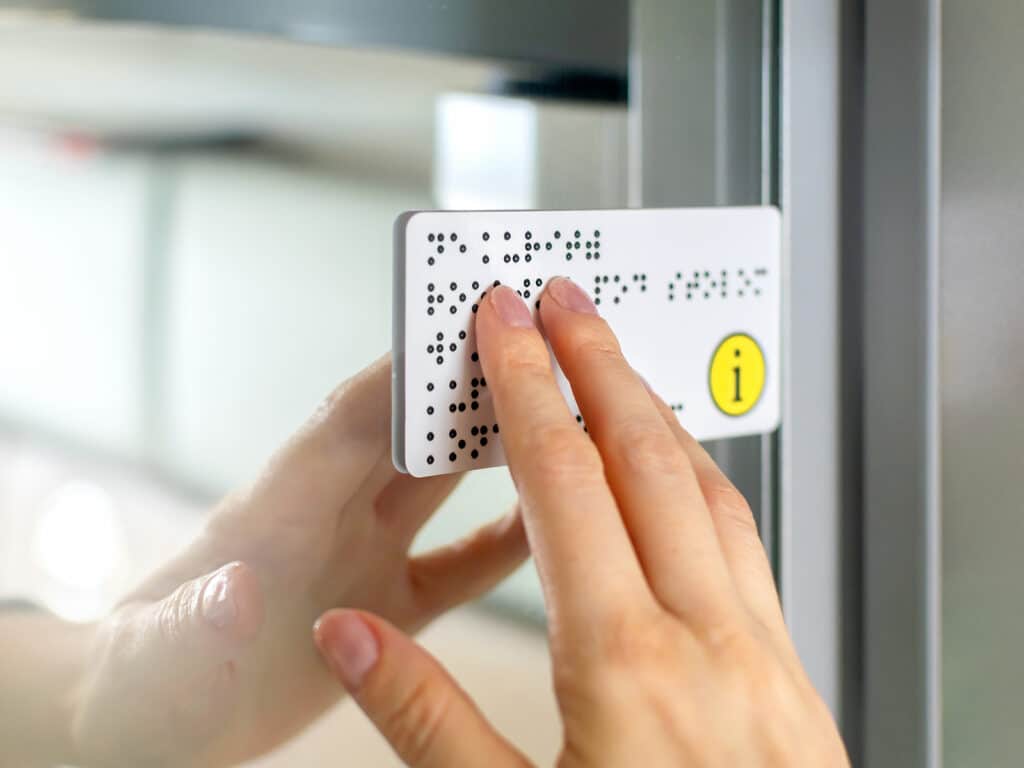 By installing assistive technology in your workplace, you can significantly improve accessibility and inclusivity. These technologies are designed to support those with visual or hearing impairments, and include:
Work devices with Speech recognition software
Braille on displays and keyboards
Sign language applications
Assistive technologies ensure all employees have equal access to the tools needed to carry out their job efficiently.
3. Offering Specialist Equipment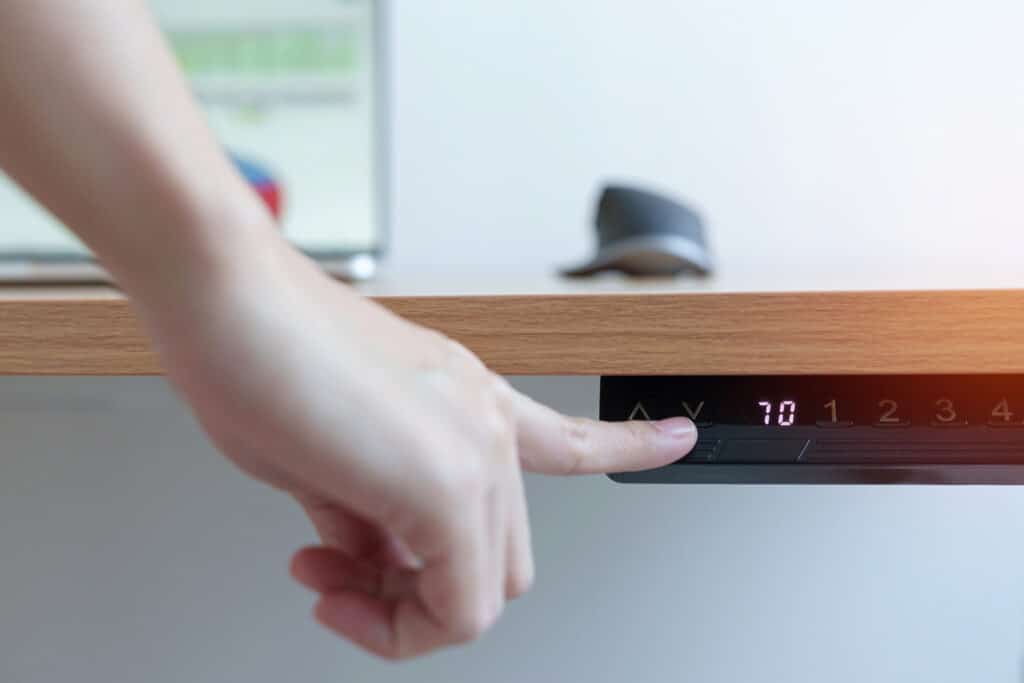 Within the workplace, employers can invest in special equipment to help disabled employees working around the space. Popular and inclusive equipment is used across a number of industries, and that can benefit able-bodied members of staff too, with options including:
Height adjustable desks and chairs
Monitors and screens with anti-glare
Ergonomically designed seating
4. Prioritise Employee Training
Workplace modification is a good way to upgrade accessibility for workers and visitors, but without proper training, their effectiveness is hindered.
All employees should be trained accordingly, on not only the safe use of certain pieces of equipment, but also on proper conduct. This includes targeted sensitivity training, to ensure that all disabled members of the team feel understood, welcomed, and accommodated.
5. Reduce Stress and Over-Stimulation
The culture of a workplace can have a considerable effect on overall accessibility, and in some cases can negatively impact the health of both disabled and non-disabled members of staff. Most often, unhealthy cultures that elicit high stress can result in a decline in the mental and physical well-being of employees.
There are a number of solutions a workplace can put into place to reduce stress and promote a healthier culture. Employers could choose to:
Offer flexible working hours
Invest in employee health
Provide support and resources
Communicate clearly with staff
By prioritising these changes and cultivating a healthier work-life for staff, employers can reduce stress and over-stimulation, which in turn lowers blood pressure, relieves symptoms of depression and anxiety, and improves focus and decision-making capabilities.
Find out more about improving workflow and productivity at work.
Funding for Workplace Accessibility
Some disabled employees, or those with long-standing mental or physical health conditions, may be eligible for financial and practical support from the employment support programme, Access to Work. Employers do not need to apply for this support on the employee's behalf, and an application can be processed at any time.
The nature of this support, most often in the form of grants, is to stand in when reasonable adjustments are not enough to meet the individual's needs. And aside from a few exceptions, is available to employees anywhere in the UK.
How Our Passenger Lifts Can Help
We offer a wide range of passenger lifts to support all members of your workforce, and provide accessibility solutions to those who need them most.
In order to remain compliant with the Equality Act, we do our best to ensure that all disabled lift solutions meet accessibility standards, including:
Doors and platforms wide enough to carry wheelchair users and carers.
Larger push buttons set at a specific height for easy reach.
Plenty of handrails to provide support throughout journeys.
Adequate lighting up to 200 lux to ensure full visibility.
A decent amount of entry and exit space.
Distinguishable wall colouring to help guide users.
Complete emergency systems including battery backups.
Level entry points to avoid trips and other accidents.
Visible landing indicators to inform the partially sighted.
Rear-mounted mirrors to provide better visibility.
All modern lifts installed in commercial properties, for the purpose of providing accessibility to disabled workers, need to meet these standards in order to comply with the Equality Act (2010). For those that do not comply, we offer lift refurbishment services.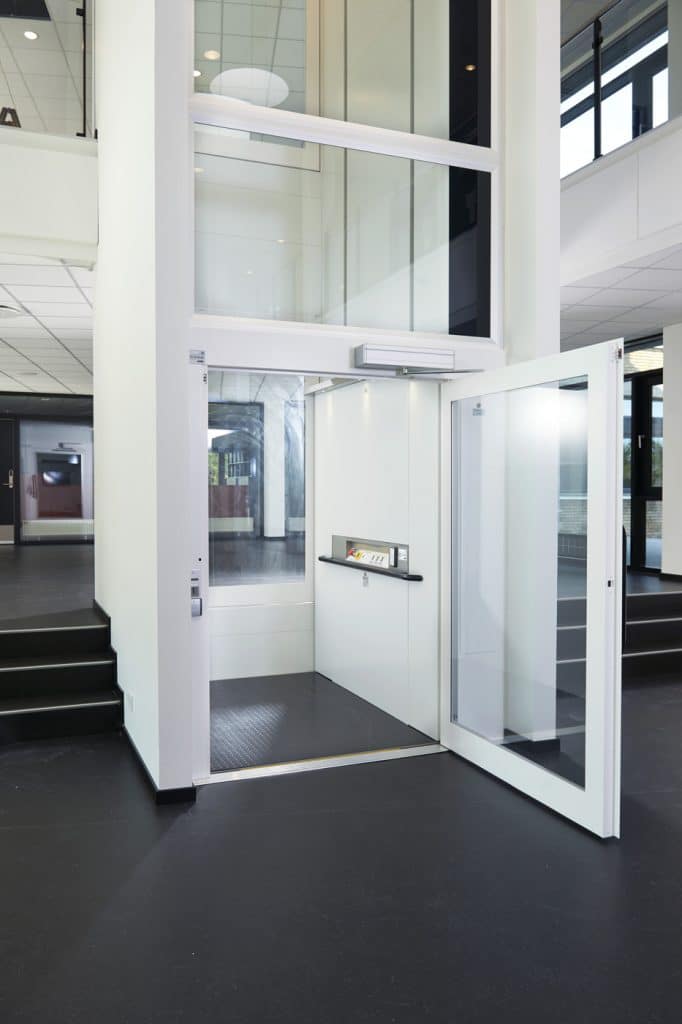 Prioritise Accessibility in Your Workplace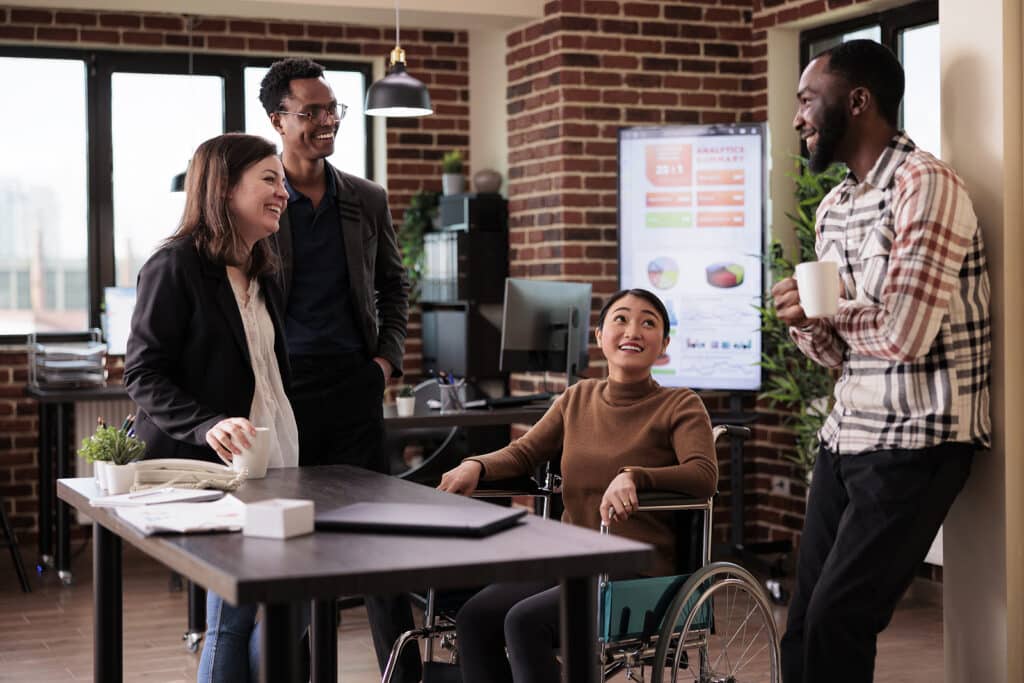 All public places and workplaces should be made accessible, especially if companies are serious about their commitment to diversity and inclusion. And in the long run, investing time and money into these solutions can only benefit the business, opening it up to a wider pool of talent and cultivating a work environment that employees want to come to.