The Prices of a Home Lift
Domestic platform lift prices fluctuate, depending on several criteria. There are several types of home lifts that help people living with mobility issues to access their homes more easily, so the larger and more powerful lift products come at a higher price point than smaller models. It can be frustrating to not know costs ahead of time, but it varies depending on each installation.
Home lifts come in all shapes and sizes, and it is hard to know how much you should expect to spend on making your home more accessible. However, all of our home lift prices include:
2 years extended warranty
Free servicing for the first year
Installation costs
Free site-specific drawings, quotes and home visits
Pre-installation visits
Access to our 24 hour breakdown line
Basic costs will not usually include custom colours, extra functions and features or home lift servicing. We will now look at how much you can expect to pay for each type of lift. Please feel free to get in touch with us now if you are ready to buy and have your lift expertly installed.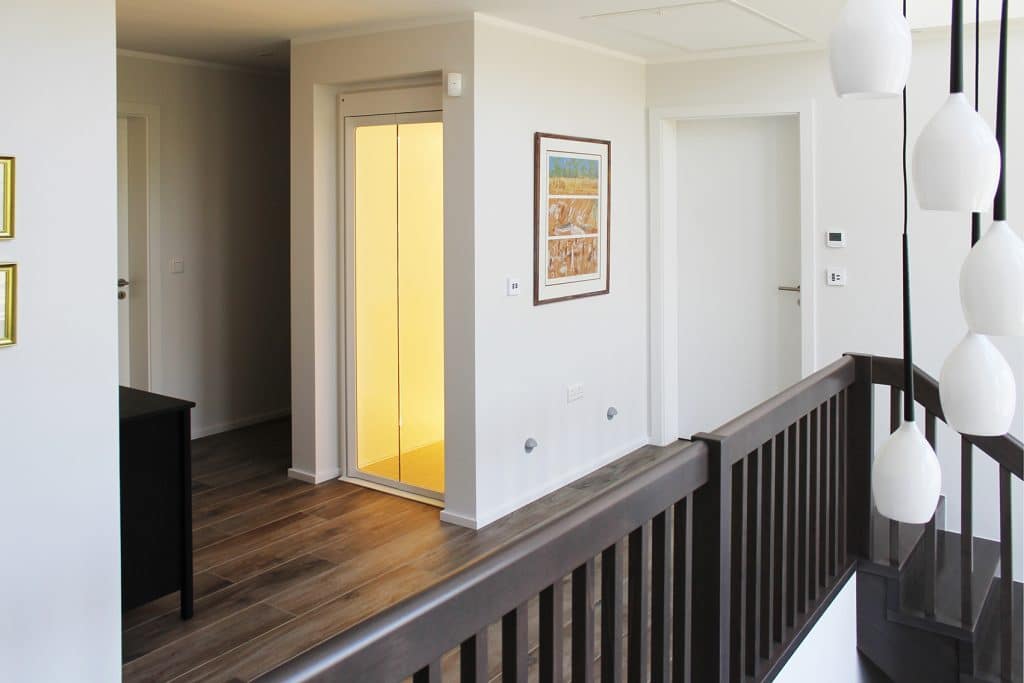 Standard Size Home Lift Prices
Standard through floor domestic lifts and wheelchair lifts are common in British homes and form an important part of our home lift range. The typical through floor home lift price starts from around £10,000 to £12,000, but can increase. Customisations, larger lift designs and unique installation considerations all impact costs.
Other models include smart home lifts, which are quite a new option and incorporate some innovative future-proof technologies. For example, our smart HomeLift comes with a connected app, which means you can control the lift, change and set lighting schedules and colours, and set up the lift for daily use. The smart home lift from our company starts at around £23,000.
The app also sends key servicing information, so we can get to you quicker if a problem arises. You can integrate our app into your smart home system and there is also an art back wall to add a personal touch to your new home technology.
Small House Lift Prices
Generally speaking, it is surprisingly affordable to install a versatile lift in your home – especially with some of our more compact or smaller-sized platform models of home lifts.
The Gartec 4000 platform home lift is the most compact lift we offer but still goes up to 6 floors, with a higher weight limit of 250 kg and with door options available on multiple sides. There are also several larger platform sizes available. While a through floor lift starts at around £10,000, the Gartec 4000 offers better versatility and custom design options for only a touch more – it starts at around £14,000.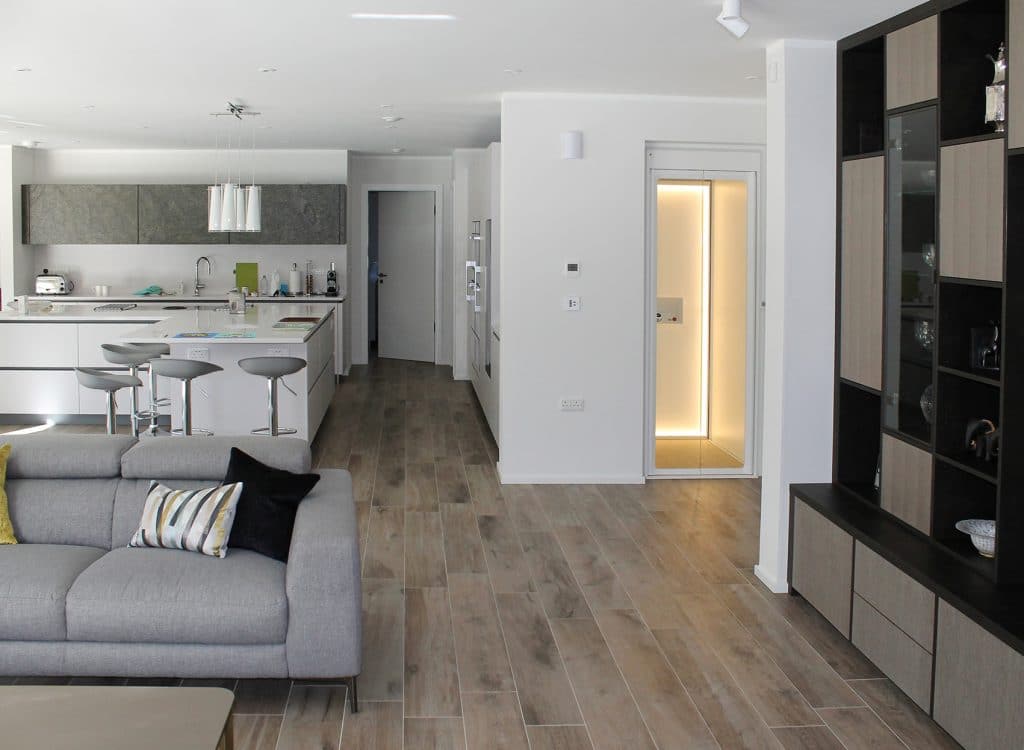 How Much Does a Disabled Platform Cost?
The typical cost of a wheelchair lift can vary, such as when they must also carry a passenger (such as a carer or attendant) with the wheelchair user, or if you need it for a heavier bariatric or electric wheelchair. The most important installation cost consideration for this type of lift is making sure your home will handle the lift dimensions (including having space to turn and enter the lift while in a chair!) and the weight of the chair and its user.
The Gartec 6000 home lift is a great disabled lift for a wheelchair user and is unrivalled thanks to its flexibility and ability to meet almost any requirements for home wheelchair lifts. The Gartec 6000 model starts at £16,500, which is not a huge jump in price for the extra features, size and other possibilities it gives you – especially with multi-floor access or different entrance requirements.
Another residential lift for wheelchair users is a stairlift, which is a lower-cost option and starts from around £6,000. Sometimes stairlifts (or step lifts) need quite specific layouts, though they usually only travel between 2 stops. As a result, a curved staircase will add to the installation cost quite significantly. However, for a low use lift, or where the staircase is straight and wide enough to store the stairlift and still walk up the steps, they can be an easy and fairly low-cost solution.
Find a Future-Proof Lifting Solution
Whichever home lift you decide to install, you can find a non-disruptive installation and get the benefit of minimal building work thanks to our clever designs. Our talented team have over 25 years of experience in designing and installing effective home lifts at a very reasonable cost.
Whether you want a new platform lift, wheelchair lift or a home lift that works as a goods lift or dumbwaiter, you can easily find an ideal lift to match the design of your home and the budget you have. Get in touch with us today to select your new residential lift design.