Outdoor Wheelchair Lift Cost
Outdoor wheelchair lifts can liberate you in your daily activities indoors but can also give you complete autonomy on the grounds of your home. If you are a wheelchair user or a person living with impaired mobility who wants full access outside, you can benefit from our vertical platform lifts by installing a high-quality outdoor step lift.
But how much do outdoor wheelchair lifts cost? As leading designers and installers, we can tell you that the following factors will come into play: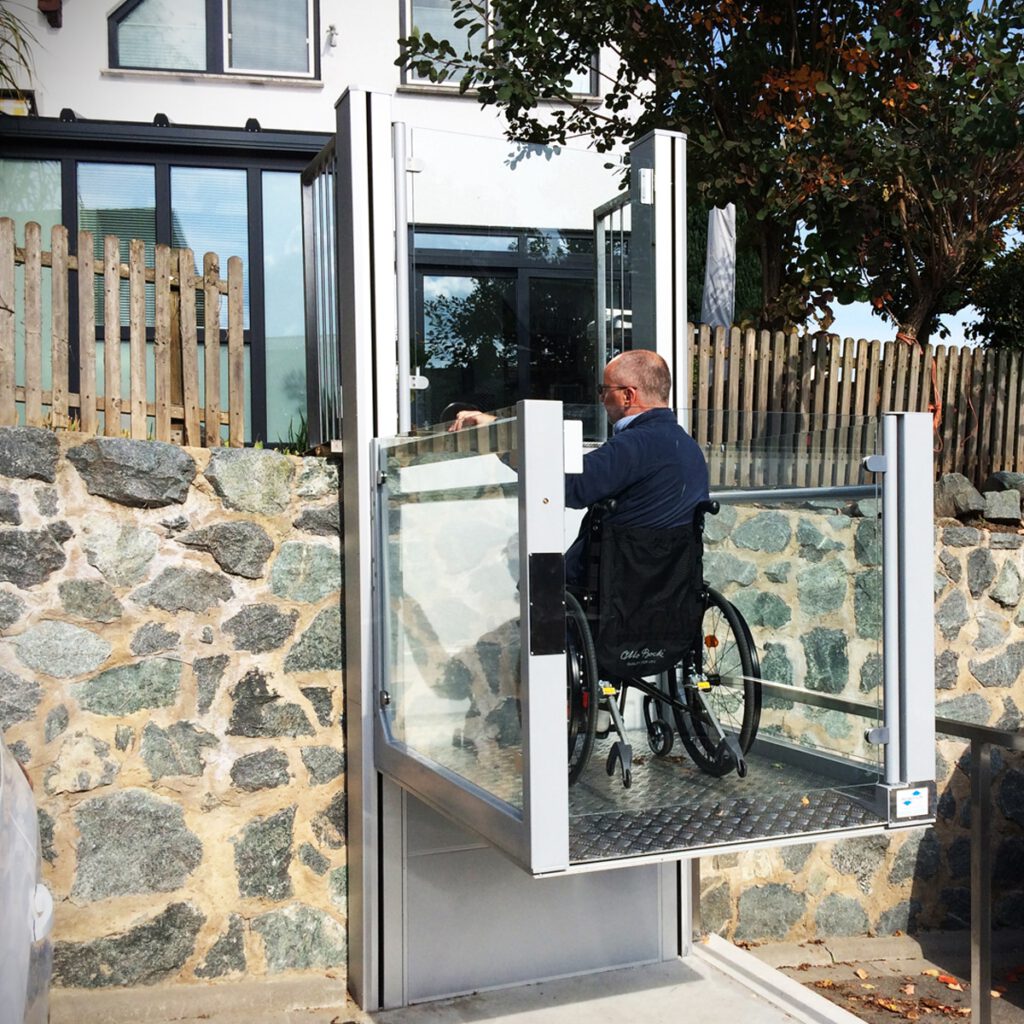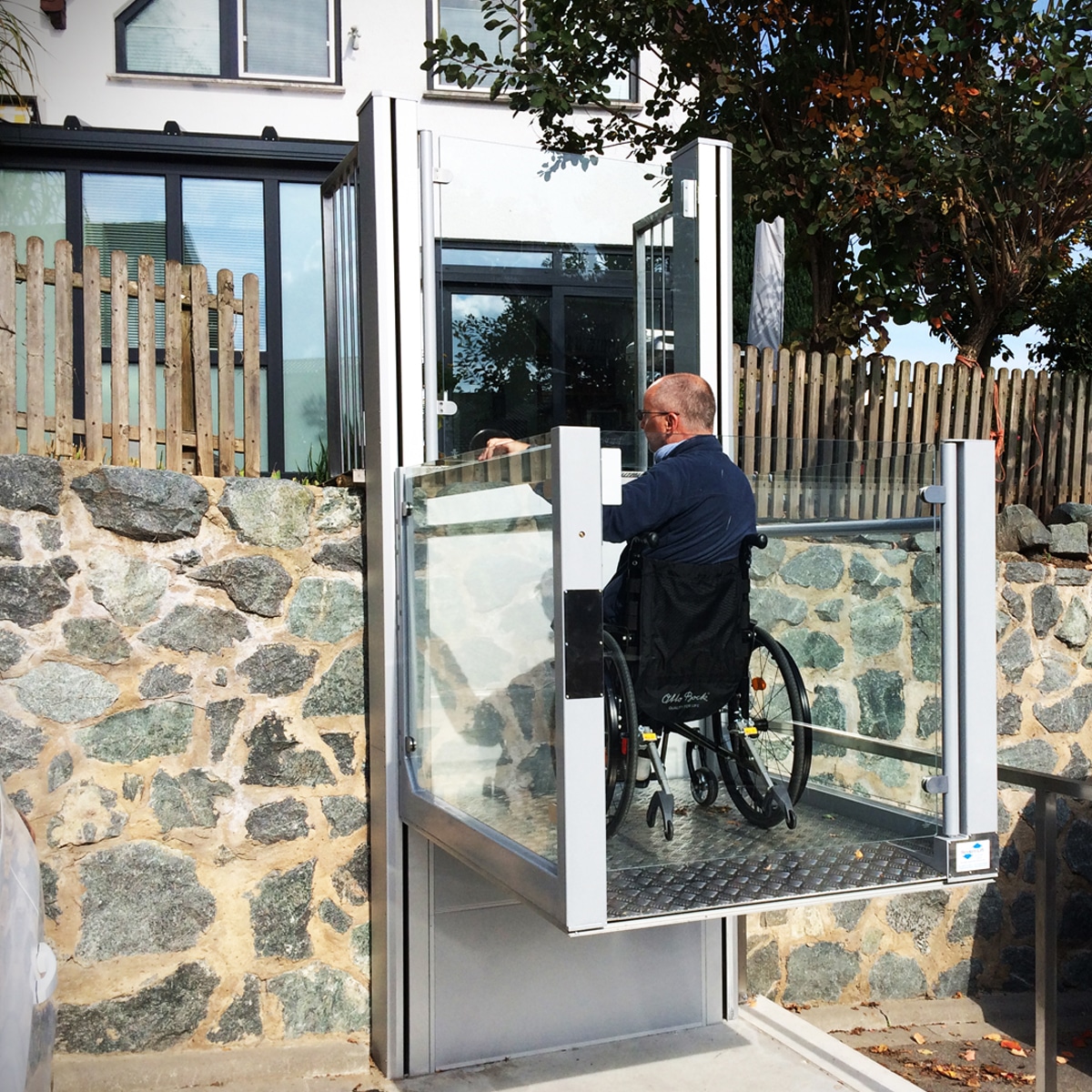 Type of lift: Many vertical step lifts can be quite large, whereas incline stair lifts that are suitable for outdoor use are usually comparatively small. The material costs, the complexity of the lifting mechanism and installation costs are higher on bigger lifts.
Platform size: Step lifts and stair lifts have a few different platform sizes to choose from, which can easily affect the cost. Wheelchair users with large electronic bariatric wheelchairs may need a bigger platform, which will influence the price of the lift.
Curved vs straight stair lifts: Curved stairlifts, such as for access to a rockery or up any other winding paths, require more work to fabricate, install and maintain. As a result, straight stair lifts are always simpler and have a significantly lower cost to install.
Complexity lift work: Being outdoors can mean a little more site preparation is often necessary and it is never easy to tell just how much landscaping or other design work is required beforehand. Awkward and cumbersome installations can cost a lot more.
Distance of travel: Whether you are using a step lift or a stair lift, the further the distance you go after you wheel onto the platform – the higher the costs involved. More materials, such as metal tracks or lifting mechanisms, often raises the cost.
Finishing requirements: A step lift or stair lift will come with several colours and finishes, as well as optional extras such as lights or additional safety features. Finishes not only cost more but may add to the overall project timeframe.
As a bespoke installation, it is impossible to say without getting in touch with us how much it will cost. However, we can install a lift at a cost-effective rate by using our expert lift engineers, clever designs and ultra-low-energy use lifts. You can rely on our team to deliver efficient results.
What Wheelchair Access Solutions Are Available Outside?
Our outdoor wheelchair access lifts include step lifts, which rise vertically adjacent to the stairs, and stair lifts, which incline along a track along the side of the staircase. We have several outdoor lifts within our range that are ideal, with some of the best products including the following:
Gartec 3000 Step Lift: This is an incline step lift, similar to a porch lift, which you can use indoors or outdoors. Travel a distance of 600 mm to 3000 mm using an ultra-quiet and efficient belt drive system with illuminated controls, great for the outdoors.
Gartec Platform Stair Lift: This is a commercial-grade lift that will work as a rugged, outdoor option in the home. The stair lift gently raises a single wheelchair user only using three separate platform sizes, and it also has a very high 225 kg load rating.
We can find many solutions for outdoor lifting, which include plenty of options for goods lifts and platform lifts in commercial environments. As a result, no matter what your situation, we are confident we can find the best option.
Our lifts, team and services have won several awards. Whichever type of lift you might choose, we can provide some excellent-value service packages for a long-lasting, safe and reliable lift.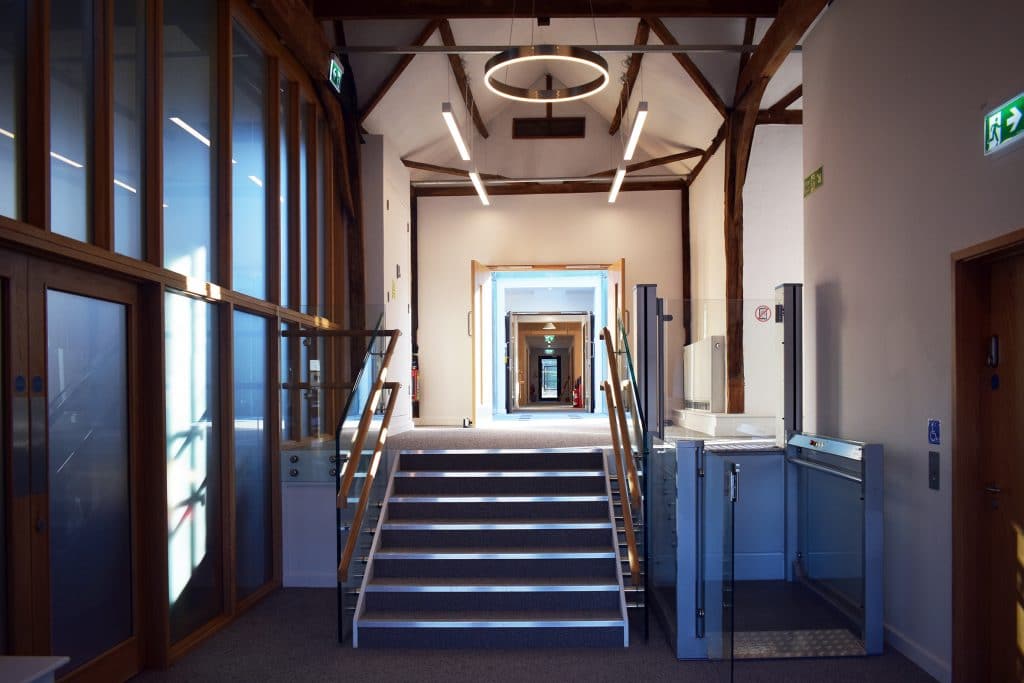 ---
Find Out How Much Your Outdoor Wheelchair Lift Will Cost
Our sustainable designs, recyclable materials and incredibly efficient running costs can help to keep our installations of both indoor and outdoor wheelchair lifts as low as possible. How much your precise installation will cost will depend on a few different factors, which we explain above.
We specialise in bespoke installations of all kinds of lifts, with aesthetically-pleasing designs installed in the most sensitive, non-disruptive way outdoors. To liberate yourself outside in your home please feel free to get in touch with us and discuss your outdoor wheelchair lift costs.