Disabled Lifts
Have you been looking for an elegant lift solution to make your home work better for you, all without the need to spend your life's savings? When you choose the installation of a Gartec Home disabled lift, we will help you by improving your quality of life at home and making your house put in the work for you.
Interested in the installation of an elegant, compact, and affordable lifting solution? Contact Gartec Home today.
Disabled Lifts – Helping You to Get Around your Home with Ease
Many people who suffer from impaired mobility are either forced to struggle to reach the upper floors of their home or are confined to the ground floor of their home. They find themselves in a building that is constantly working against them simply because their house is not equipped to assist with their impaired mobility. At Gartec Home, we aim to remedy this problem nationwide with a wide range of domestic disabled platform lifts, including:
Gartec platform step lift
Gartec 3000 step lift
Gartec Homelift access
These are designed to help you get around your home with ease, Gartec Home can help you to make your home feel like home once again.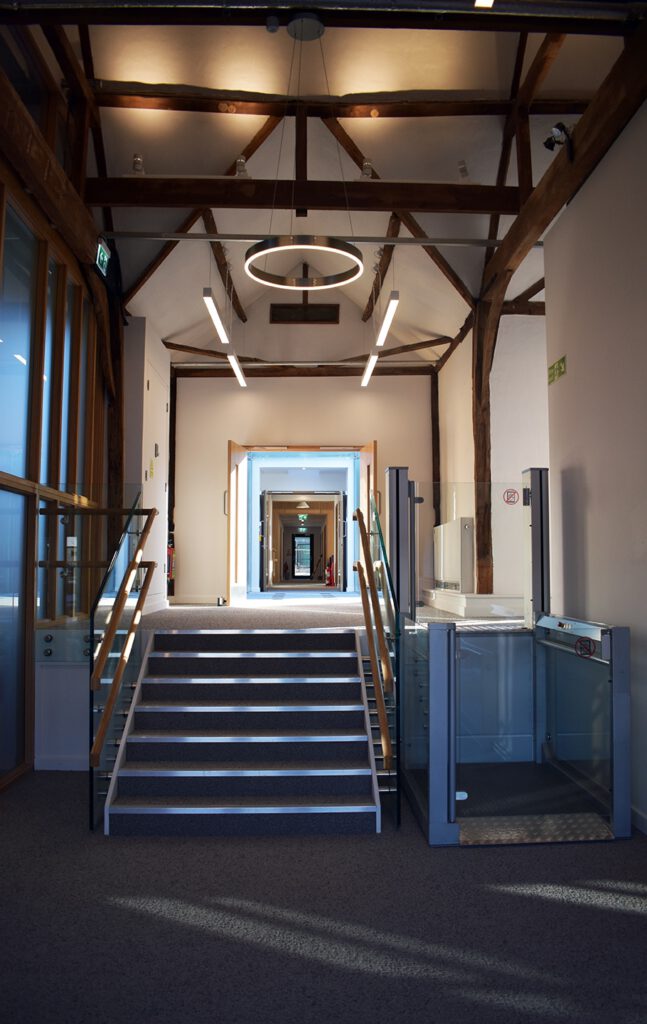 Gartec Home Disabled Lift Range
At Gartec Home, our range of sleek and compact disabled platform lifts are high-quality options designed to provide the ideal solution for enhancing accessibility within your home. They come equipped with simple-to-use operating systems that wheelchair users, and people with impaired mobility, can access and operate with ease.
We have a range of domestic lifts that are suitable for a wide range of placements in the home.
If you'd like a domestic lift that is suitable for your staircase, our range can be mounted on the wall and used for both straight and curved staircase fixtures, stanchion mounted, or a sleek combination of both no matter the restrictions of space within your home. We even have a range of standalone platform lifts that can be mounted on load-bearing walls and non-load-bearing walls.
The Gartec Home range of disabled lifts can be used internally or externally, with the installation of the entire unit being able to take place in as little as a weekend, ensuring that you have a quick solution for your mobility needs.
The Gartec Home Disabled Lift Range
Below, you'll find our range of disabled platform lifts. Some of the lift models we have available are designed with limited space in mind, ensuring that, no matter the size of your home, you can enhance your home's accessibility levels. Others are in larger, self-contained, structures. We offer a range of lifts that are suitable for a variety of home styles and sizes.
With residential installations of Gartec Home disabled lifts, our expert team of lift engineers can install and activate your lift in as little as a weekend. Some lifts will require building work, but this is always kept to a minimum and our lift experts work in a non-disruptive manner to ensure your day is not interrupted.
By keeping building work to a minimum, we can ensure that these projects, which are normally seen as huge monetary investments, are more cost-effective and not time-consuming undertakings.
With every installation of a Gartec Home disabled lift, we are guaranteed to install the latest LOLER certified technology to ensure your safety when using the lift, as well as the reliability, comfort, and longevity you need from your brand new disabled lift.
Our range of disabled platform lifts include, but are not limited to: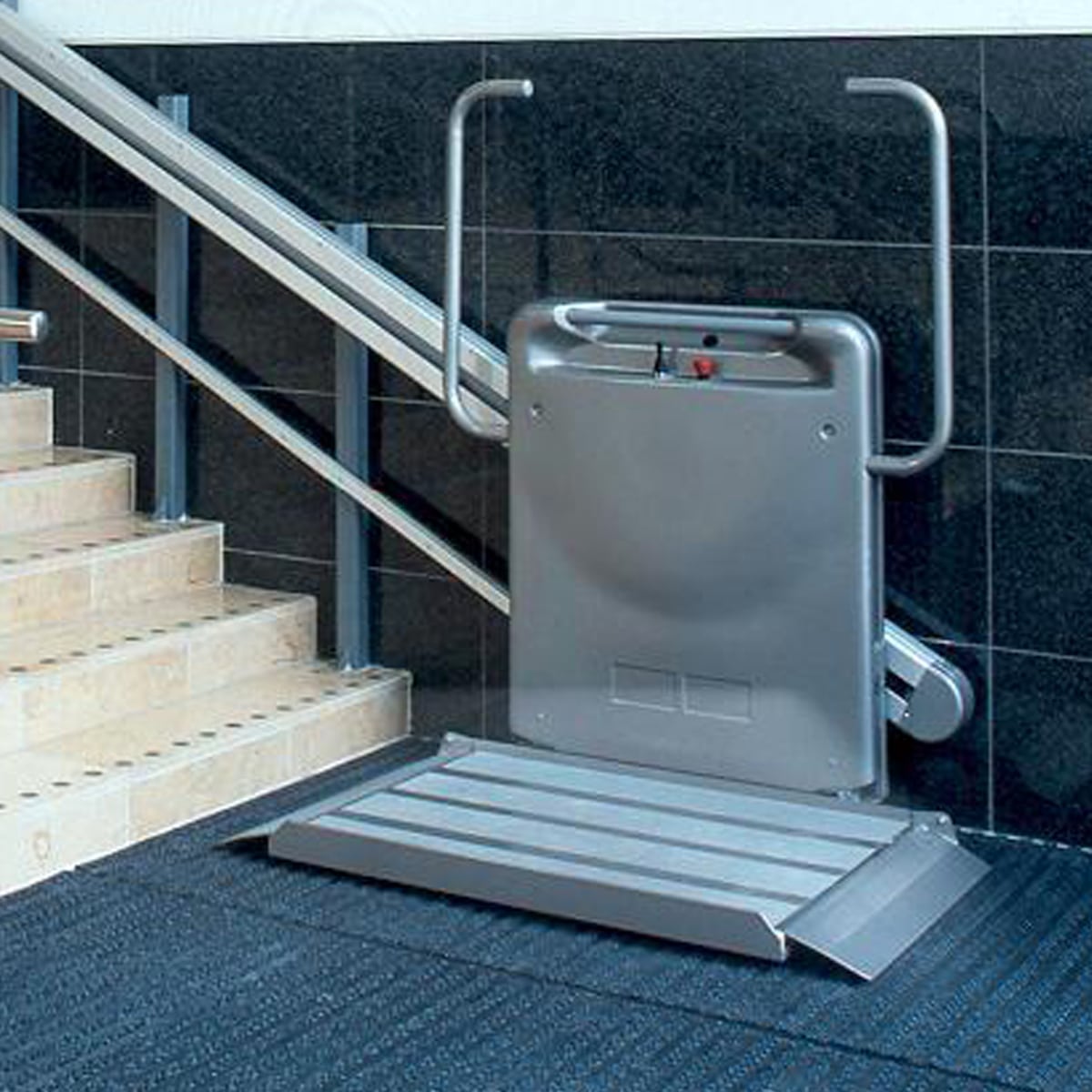 Gartec Platform Step Lift
As one of our more popular choices of vertical wheelchair platform lifts, the Gartec platform step lift is a versatile, cost-effective, and compact lifting solution for wheelchair users at home. It is similar in style to a typical stairlift, but this model opts for a platform that wheelchair users can simply roll onto for greater levels of accessibility and comfort – rather than having to use a seat.
Features of Gartec platform step lifts include:
Straight stairways for wheelchairs
3 platform sizes
225 kg load rating (wheelchair user)
Indoor and outdoor
User or attendant controlled
Motorised unfolding for easy access
When the Gartec platform step lift is in use, the wheelchair user will simply roll onto the platform. From there, the safety bars will lower to ensure the user's safety, and a constant pressure joystick will enable the user to control all movement along the staircase.
Benefits of the Gartec platform step lift include:
Built and installed in as little as one day
A range of in-built enhanced safety features, including safety sensors, barrier arms and ramps
Cost-efficient maintenance and operational costs
Ideal for small spaces and low level for changes
Reliable and durable
Gartec 3000 Step Lift
Choosing the Gartec 3000 step lift provides the user with a compact, space-saving, lift with a rise of up to 3 metres – the perfect alternative to a ramp where space needs to be maximised. The 3-metre travel distance on offer from the Gartec 3000 step lift will help wheelchair users, and people with mobility issues, to travel efficiently between levels of the home.
This model also has a wide range of platform sizes and material finishes available to better suit your needs, the size of your wheelchair, and even the aesthetic of your home.
Features of the Gartec 3000 step lift include:
Travel from 600 mm – 3000 mm
Illuminated constant pressure controls
Remote call station
Internal wheelchair lifts have a pit option
No need for an enclosure or support tower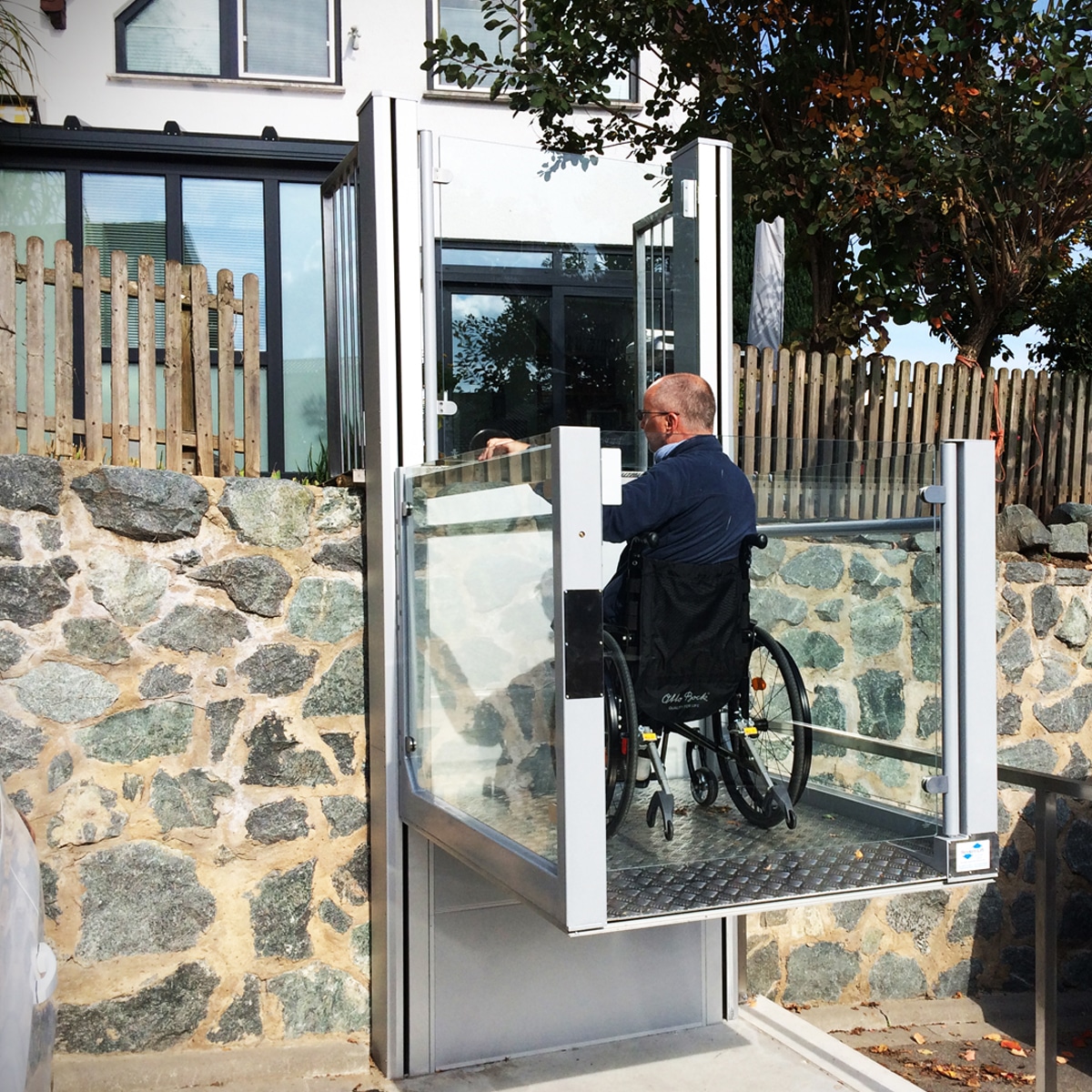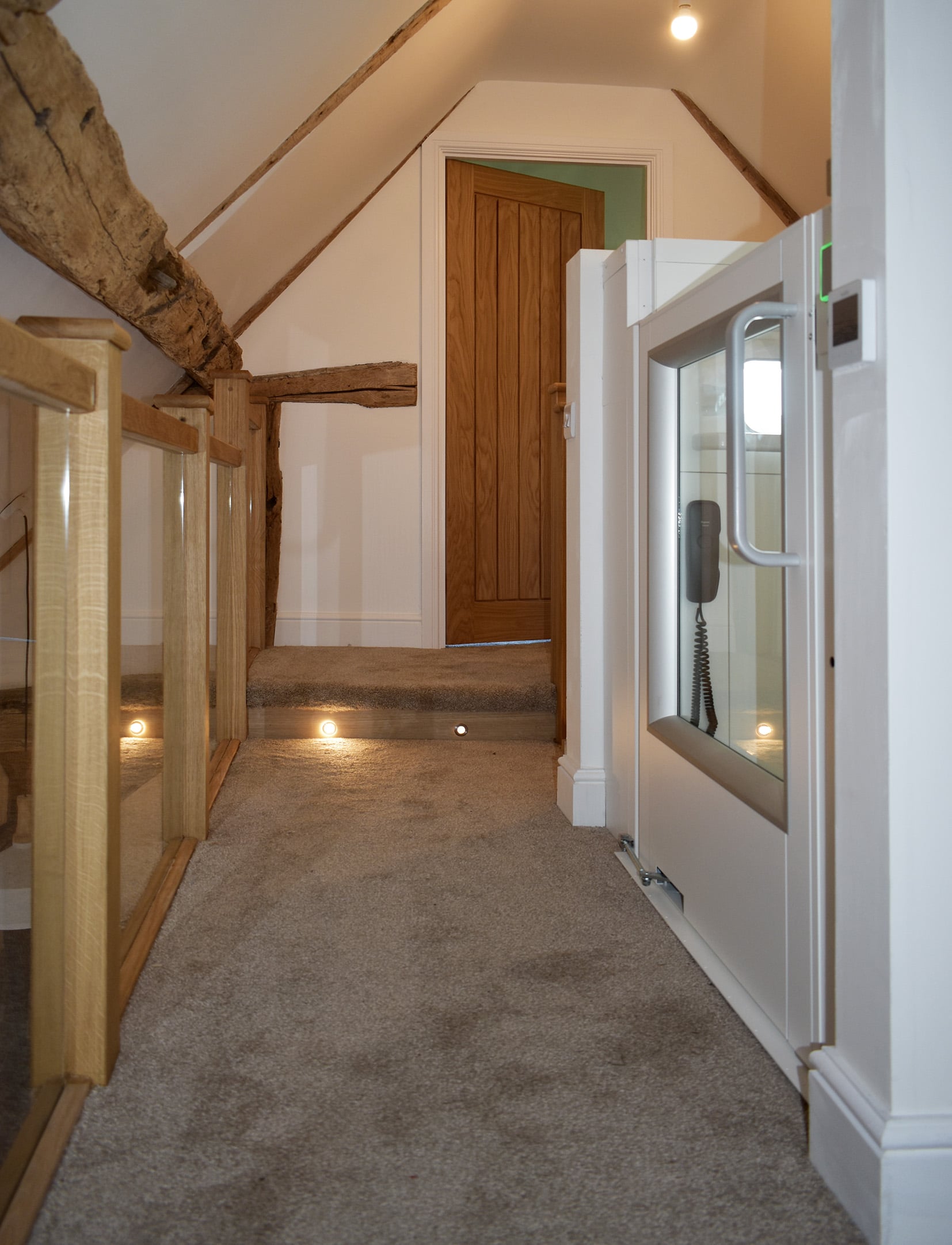 Gartec Homelift Access
Developed from the highly popular 6000 model, the new and improved Gartec Homelift Access is one of the most flexible, comfortable, and aesthetically-pleasing lift solutions available on the market today.
Offering a wider surface area and scope than the 4000 model, the Gartec Homelift Access can also act as an effective passenger lift capable of accommodating up to six standing people at a time.
Features of the Gartec Homelift Access include:
Multiple lift sizes
Shaft enclosure supplied with lift
Glazed or solid shaft panels
Doors on up to 3 different sides
Single or double glass, half-height gate or fire-rated doors available
Safety edges around the platform
50 mm pit or ramp
Integral electrical cabinet
As a highly adaptable lift solution, the Gartec Homelift Access has eight platform sizes available to choose from and can even handle up to 500 kg at a time. This is the perfect model of lift for bariatric and electric wheelchair use, as well as wheelchair travel with a carer.
The Gartec Homelift Access is also highly adaptable in the sense it can have doors on up to three sides, and is even able to cater up to 6 stops/floors (13 metres).
Main benefits include:
Optimal design and size with a wide range of finishes
Made using up to 95% recyclable materials
Energy efficient (low-power usage)
Patented screw/nut technology
Low maintenance and operating costs
Minimal building work & quick installation
Self-contained unit (no separate machine room)
If you can't find the style of lift you're looking for, we do have a further range of home lifts, cabin lifts, floor lifts, and other residential lifts that may be more suited to your tastes, aesthetics, and particular needs.
Contact Gartec Home for Effective Disabled Lift Solutions
Accessibility is one of the most important aspects of making a house feel like home. Choosing Gartec Home will ensure that you get a lift solution that is comfortable, sleek, and suitable for your budget – alongside installation that can take as little as a day, with little to no building work required during the disabled lift installation.
Our team of expert lift engineers have over 25 years of experience in the consultation, installation, repair, maintenance, and general aftercare of lifts across the UK, so if you're looking for a high quality, lifelong, solution to accessibility in your home, why would you choose any other lift company?
Find out what we can do for you through our case studies.
Are you looking to install a lift for your home? For high-quality, lifelong solutions to accessibility from top of the range disabled access lift manufacturers, get in touch with Gartec Home today.