Dumbwaiter Lifts
Gartec dumbwaiters are small-load goods lifts for transporting anything from documents, food and laundry to goods, equipment and small trolleys. Often seen in hotels, libraries, kitchens and restaurants, dumbwaiters help reduce manual handling.
Lift Enquiry
Product Pages Enquiry Form
The Gartec dumbwaiter uses a self-supporting steel structure that is erected in just a day or two, with minimal building works on-site and no load-bearing shaft. You can enclose the structure to suit the surroundings. A counterbalance drive system makes the Gartec dumbwaiter more energy efficient without a reduction in power.
About
Dumbwaiters are small-load goods lifts for transporting anything from documents, food and laundry to trays, equipment and small trolleys. Commonly these are found in hotels, restaurants and pubs. Our dumbwaiters are a simple, durable solution. An extra quiet motor and wipe-clean surface make them perfect as a serving lift for hotels and restaurants. The supporting frame system means quick and easy installation with no motor room or load-bearing shaft required – helping you to get back to work faster. The Gartec dumbwaiter can take loads up to 150kg. Read more about our goods lift range.
Our dumbwaiters are simple, durable small goods lifts, usually at waist/serving height. An extra quiet motor and wipe-clean surface make them perfect as serving lifts for hotels and restaurants and their supporting frames ensure a quick installation.
Benefits
Apart from the obvious benefit of not having to carry items on the stairs, there are lots of benefits to dumbwaiter lifts. These include:
---
Reducing Costs

Dumbwaiters are a lower initial cost than a larger lift option
Dumbwaiters save employees time, meaning less staff can do the same work

Safety at Work

It is far safer for your staff to use a dumbwaiter for anything sharp or breakable than to carry by hand. Any potential accidents are prevented.
Manual handling can be a serious issue. Reducing manual handling at work is always a positive and leads to a safer environment

Saving Time

Staff can save valuable time transporting items by foot
A dumbwaiter may even be faster than staff on foot – usually, they are speed limited to around 0.35m/s – that's 21m per minute, which is pretty quick!

Saving Space

Dumbwaiters are actually really small and are usually possible to tuck into an alcove or corner.

Cleanliness

Carrying food or perishable items by hand can lead to mess or spillage, which can further cause hygiene issues. A dumbwaiter eliminates this.
Most dumbwaiters are (or have the option of) stainless steel – wipe clean and waterproof for thorough cleaning.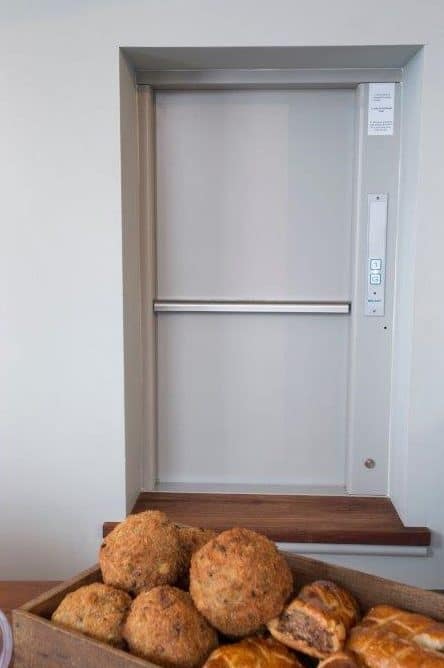 Gartec Dumbwaiter Lift Types
Gartec offer 3 main types of dumbwaiter:
Standard models
Double models, with a bank of 2 dumbwaiters
Bottom drive models, reducing headroom requirements
Double bank versions of the dumbwaiter are great for laboratory lifts or food service lifts where contamination or temperature need controlling. If you would like a double bank, a wall will need to be created on-site to separate the shafts.
You can also position a Gartec Trolley Lift beneath the dumbwaiter in the same shaft.
A GREENER FUTURE
We are continually working hard to reduce our carbon emissions and use sustainable materials.
---
recycled and recyclable materials
This uses less energy than a standard domestic kettle or hairdryer
Of annual power usage and cost compared to a passenger lift in the same environment
an annual reduction of up to
is seen through the production of the annual power used.
---
FAQs
What is a Dumbwaiter Lift?
Dumbwaiter lifts are small lifts that usually open at "serving height" (approximately hip-height) for easy hand loading between 2-6 floors.
You've probably seen one in a restaurant or hotel, the most common places for them.
Dumbwaiter lifts are usually seen around commercial kitchens as it allows the kitchen staff and chefs, and the restaurant serving staff, to pass items between floors without dangerous or time-consuming journeys up and downstairs with breakable plates and the like.
Hotels also use dumbwaiter lifts for transporting items like laundry or cleaning products between floors.
Larger private homes sometimes install a dumbwaiter lift too, providing convenience and a method for transporting items. House staff can also use the lift in the same way a hotel or restaurant would as well.
What Are Dumbwaiters Called?
There are quite a few alternative names for dumbwaiter lifts – the main alternatives for 'dumbwaiter' include:
Service lift / elevator
Microlift (brand name)
Food lift / elevator
Regardless of the name, these small lifts offer great potential in hospitality, commercial businesses and even private homes.
We had a limited budget and Gartec worked out the very best option and price for us, they ensured we got the correct people involved regarding the design of the hole for the lift to travel through, and we duly placed the order. We had some misgivings about what we ordered as we were concerned about how it would look when it was installed and how obtrusive it would be, indeed we decided to amend the order so the lift had glass sides and wow! How glad we are that we did. The communication was first class all through and the aftercare has been very good.
I examined the market for a suitable lift for our premises, and Gartec had a lift that would fit into our small bar area and would not be too obtrusive, hence making contact and requesting someone visit to look at the site and advise on the best option for us, we are a grade 2 listed building and were having problems getting the planning permission for the lift to be installed where it would serve us best, Gartec made contact and arranged to visit us. Gartec was very professional and most helpful, and much more interested in getting it right for us than any of the other suppliers.
The cricket club is currently being used as a COVID vaccination centre and the lift is essential for those of limited mobility. Hence it was important to get the work done as soon as possible and on a day when the centre wasn't in use.  We're very grateful for the swift response from Gartec, the service engineer was also very competent and helpful.

---

Plymouth Cricket Club
"We turned to Gartec, and their innovative moving floor design. It was an attractive and successful option taking only 6 days to fit. The safety features include a remote lock and a Smart app operation from an iPhone, so parents can ensure no trapped fingers  or 'junior joyriding' – perfect for a family house. We have been impressed with both the product and professional installation, and would certainly consider Gartec again for another Octagon home."

---

Anton Dummer, Octagon Developments
"Both our Architect and Building Manager found Gartec Home professional, organised and proactive, and the installation process went smoothly. All the people my husband and I have dealt with have been helpful, and any queries dealt with quickly. The end result is totally integral to the build and reflects the modern architectural style."

---

Hazel Coomber, Brentwood
"I would like to say that everyone at Gartec has been very helpful. The lift is my lifeline and enables me to live here."

---

Barbara, Stourbridge
"The Gartec Home team were friendly and knowledgeable, they kept me informed and even tidied everything up at the end!"

---

Mary Jones, Abingdon
"Gartec offered a quick turnaround using a high-quality lift solution. It was important to have lifts that would complement the design and quality of the rest of the houses. The Gartec lifts offered this and only required a short installation period carried out by two friendly engineers. I am pleased with the overall look of the lifts installed and they will contribute to the townhouses being desirable to a bigger market. We look forward to working together again."

---

Keith Perfect, Bellwood Homes