Dumbwaiter Lifts – Transporting Laundry, Food, and More with Ease
Gartec Dumbwaiters are a popular home lift choice for transporting small-load goods (up to 150kg) such as documents, food, laundry, or equipment between floors. Often a popular choice for some of our commercial environments such as restaurants and hotels, they are also often chosen by homeowners because they are economical, easy to install and provide a discreet option making lives easier by avoid carrying items up and down the stairs or to assist people with mobility restrictions from carrying heavy items between floors.
About Dumbwaiter Lifts
We know that continuously traversing the stairs at home can be exhausting, and if you need to carry more than a handful of items at once, you end up wondering if there's an easier way to move more than a handful of items at once. 
If you no longer have the ability to carry many items all at once, and you often have the need to transport small-load goods at home with ease, Gartec has the ideal solution. Able to transport up to 150kg of food, laundry, documents, equipment, or anything else between the floors of your home, a dumbwaiter is one of our more popular choices of service lifts and platform lifts when it comes to enhancing the accessibility of private homes – making your home work for you. 
Widely used in commercial environments like restaurants and hotels, document, food, and laundry dumbwaiter lifts are also a great economical choice for homeowners due to the simplicity of installation and the discreet solutions they provide. 
Looking for a different kind of lift? Check out our extended home lift range.
What Can You Expect from Your Dumbwaiter Lift?
Here at Gartec, we have three options available when it comes to the installation of your new dumbwaiter. The standard model, which simply transports loads of up to 150kg between floors, our double models with a bank of two residential dumbwaiters, which are ideal for transporting food where temperature control is necessary, and the bottom drive models, which are designed with the reduction in headroom requirements in mind. 
All of these options are simple in design and highly durable. This means that they are more than capable of assisting in the transportation of small goods, and with a fast and easy installation requiring no motor room or load-bearing shaft, you can have your dumbwaiter up and running in no time. 
Using a Gartec dumbwaiter is as simple as holding down a button. With this, you can move heady safely and efficiently as it has a weight capacity of 150kg. Think of all the stress and strain of manual handling this can alleviate.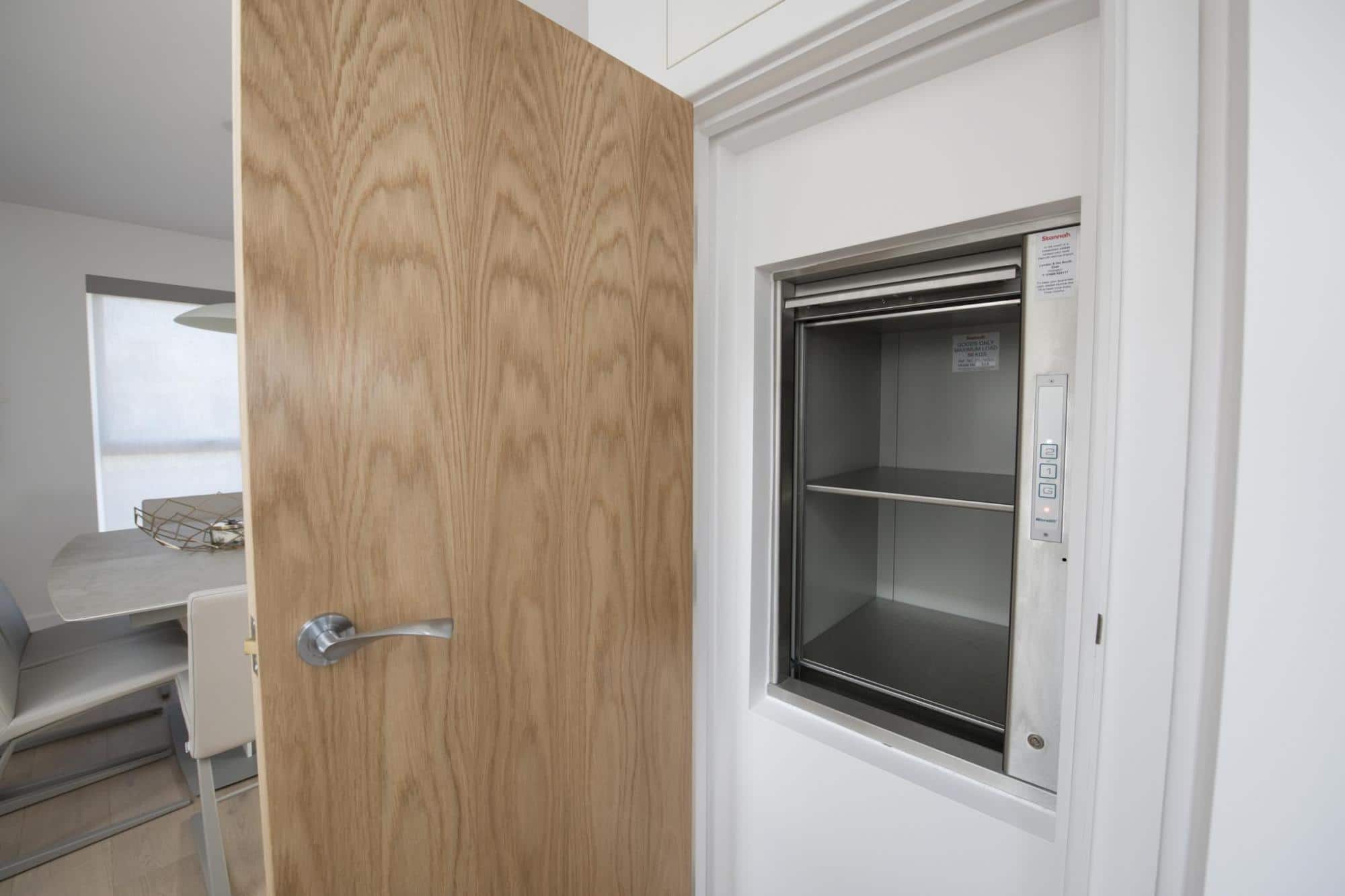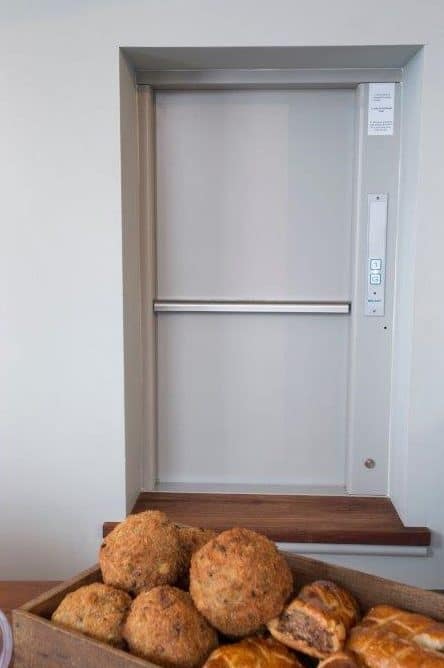 How Much Does a Dumbwaiter Lift Cost?
Here at Gartec, each project is bespoke to you. So, if you're interested in a dumbwaiter lift installation, we are unable to guarantee a price without discussing your needs and assessing the project in its entirety first. 
This means that, while there is no exact price for how much a residential dumbwaiter costs, the price of each project is also unique per customer and, by not having a predetermined price, that you're guaranteed to get the best possible price for your dumbwaiter installation. 
Are you interested in residential or commercial dumbwaiter prices? For a bespoke quote on your dumbwaiter installation cost, get in touch with our friendly customer service team today.
Gartec Home Dumbwaiter Lift Features
When choosing dumbwaiter goods lifts for use in your home, there is a wide range of features that come as standard with every dumbwaiter model. These include:
Robust and durable push-buttons with fully automatic controls

Interlocked entrances which ensure the dumb waiter is extra safe

Galvanised framework which provides a longer lifespan without scratches or damage

Shutters which rise and fall, or hinged doors to enhance the lift's ease of access

Structure supported frame

The option for the model to be fully furnished in stainless steel
How Can a Gartec Dumbwaiter Benefit Your Home?
The installation of a dumbwaiter lift can offer a wide range of benefits that enhance your quality of life at home. For people who suffer from mobility restrictions or people who frequently traverse the stairs with dangerously heavy loads, a dumbwaiter can benefit you in wide-reaching ways.
Quiet and efficient motor for efficient use at any time

A finished surface that is easy to clean if spillages occur

Highly energy efficient, meaning you'll hardly notice a difference in your energy bills

Low costs for maintenance and operating

A design that requires minimal building work and a super-fast installation at home

The entire structure is within its own self-contained unit, meaning there is no need for a separate machine room
Gartec Dumbwaiter Specifications
Rated load: 50kg – 100kg
Speed: 0.35m/s
Power req.: 1-phase, 240v, 1pH, 50Hz
                       3-phase, 415v, 3pH, 50Hz
Controls: Automatic call & send at each entrance
Technical Compliance: Machinery Directive 2006/42/EC
No. of Stops:2-12
No. of doors: Max. 2 per stop
Environment: Indoor
Motor: Motor winding unit with counter balance drive
Motor Position: Top or base (for base +150mm to shaft width)
Control Supply: 415v or 240v
Electrical Protection: RCD with 240v
Gartec Dumbwaiter Lift Measurements
Car Sizes
Standard Model: 50kg
50A: 545 x 420 x 800mm
50B: 520 x 520 x 800mm
50C: 620 x 620 x 800mm100kg
100A: 720 x 720 x 1000mm
100B: 820 x 820 x 1200mm
Double Model: 50kg
50B DD: 520 x 520 x 800mm (per car)
50C DD: 620 x 620 x 800mm (per car)100kg
100A DD: 720 x 720 x 800mm (per car)
100B DD: 820 x 820 x 800mm (per car)
Bottom Drive Model: Please see standard dimensions. Headroom reduced to 2250mm
Shaft Sizes
Standard & Double Model: 50kg
50A: 820 x 640mm (standard only)
50B: 800 x 800mm
50C: 900 x 900mm100kg
100A: 1000 x 1000mm
100B: 1100 x 1100mm
Pit depth: 350mm on the double-decker and floor height models only
Serving Height: 800mm (or floor level)
Travel Height: Up to 20m
Headroom req.:
Standard: 2600mm (50kg)
                    2800 – 3000 (100kg)
Double Decker: 3000mm
Bottom Drive: 2250mm
Contact Gartec for Dumbwaiter Lift Installation
Accessibility at home is key when it comes to maintaining your independence, and our expert lift engineers at Gartec understand that completely. When you choose a Gartec dumbwaiter home lift, our team can provide the swift, safe, and minimally invasive installation of your home's new feature in order to make your life easier. 
For lift engineers who have been in this industry for over 25 years, we have a great selection of case studies that showcase the quality of our work. Why not check out our case studies for yourself?
Looking for dumbwaiter lifts designed with safety and quality as a priority? For the number one solution to at-home accessibility from top of the range domestic lift manufacturers, choose Gartec. Contact us today.